Mandel's Musings: Baseball Industry Thriving, Just for the Wealthiest Owners? Mets' Alonso Avoids Arbitration with Steve Cohen's Mets, Salary Increases from $676K to $7.4 Million
Pete Alonso and the New York Mets have reasons to smile, these days. Can the same be said for several other MLB franchises?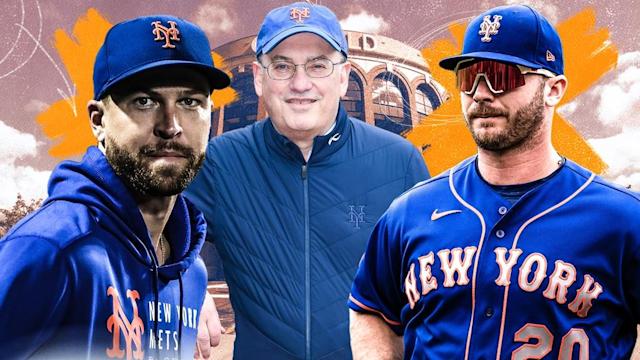 By SCOTT MANDEL
New York Mets first baseman, Pete Alonso's salary last year was $676,775. He and the Mets went through arbitration a couple of days ago. Alonso's new salary for the 2022 season is now $7.4 million.
In a couple of years, when Alonso is no longer under team control, he will be earning in the range of $25 million per year. Somebody will offer the 27-year old first baseman something in the range of $175-200 million for seven to eight years. Or maybe much more than that. We keep hearing baseball, as an industry is shrinking. However the owners know the real deal and salaries continue to explode upward. Must be that TV money teams are getting. Or, perhaps, baseball is going to evolve into a game, a business, where the point of entry to owning a franchise will start at something approaching a net worth of Steve Cohen money. The new Mets owner is worth approximately $14 billion. Since taking over the Mets a little more than a year ago, he has increased the team's payroll by more than $100 million dollars. The previous owners, The Wilpon and Katz families, ran the organization as if it were a small market club, with a not unsubstantial $140 million payroll. It placed the Mets at the same level of spending as mid and small market teams like the Toronto Blue Jays and Minnesota Twins.
But, this is where baseball may find itself in a decade or less. It currently has 30 franchises. Of those teams, there are five or six which would have great difficulty surviving the financial requirements of a major league franchise without the millions of dollars each MLB team receives, equally, from television money. The cold, hard cash networks like Fox Sports and ESPN, and now, TBS pays Major League Baseball for the broadcasting rights to the games. From the financial side, television revenue will be split to give each team $60.1 million, annually. Combined with local tv deals that are worth at least $40 million each, every MLB club will make at least $100 million from television, alone. And, that's before selling one ticket to a game, this season.
And that's not all.
Along with the tv deals, MLB teams also receive extra money through revenue sharing. Each team pools 48% of the revenue they earn and the total amount is then split evenly (3.3% of the total) and given to each team. Teams receive more than $110 million through revenue sharing.
So, in the current model of ownership, major league baseball guarantees significantly more than $200 million, back to the franchise before a ticket or a hot dog has been sold. Suffice to say, the bottom feeders of baseball's franchises, Baltimore, Cleveland, Pittsburgh, Oakland, and Miami would probably be unable to stay in business without MLB's welfare system.
The reality is, the average team payrolls have declined every season since their previous high in 2017 despite revenue increasing in MLB every year, excluding 2020's pandemic-shortened season.
But, what happens to these lower-echelon spenders when the tv money starts to dry up? If one looks at the landscape of the television industry, it would not be difficult to perceive shrinking revenues among the networks as fewer people watch television than ever before.
spotrac.com, 2022
It says here, Major League Baseball will evolve away from smaller market teams and will be dominated by the wealthiest ownership groups or individuals, most of whom will be found in the largest revenue markets. Players salaries will flatten, if not reverse its trajectories. The realities of the mathematics in how teams can be successfully operated will change drastically. It won't kill the sport. But, it will kill a handful of teams, unless those smaller market franchises discover ownerships with deeper pockets.
It will be a good reason young stars like the Mets' Pete Alonso will choose to play in a major market like NYC for the sports' wealthiest owner in Cohen. It's also why we will continue to see the Yankees and Dodgers, not to mention the Red Sox, the Phillies and the White Sox continually vying for the most expensive stars of the game. Eventually, baseball will not be a business of "haves" and "have nots."
It will just be the haves, having themselves a good time in the baseball business. As fans, we can enjoy watching behemoth bank accounts fighting it out amongst themselves.