Mets' Pete Alonso Named National League Rookie of the Year
Pete Alonso wins National League's Rookie of the Year award after hitting 53 home runs, a major league record for a first-year player.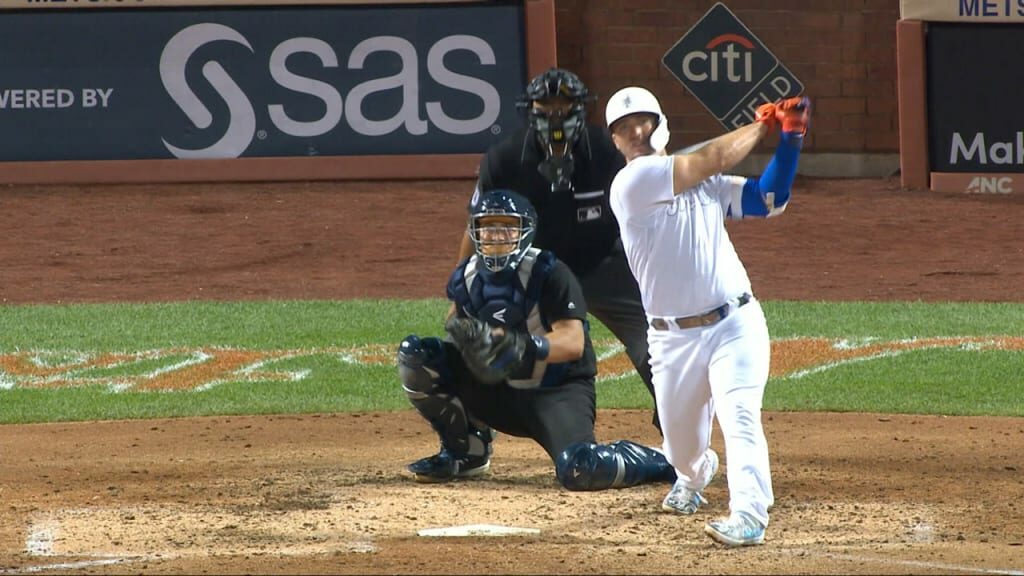 by Scott Mandel
New York Mets first baseman Pete Alonso tonight was named the 2019 National League Jackie Robinson Rookie of the Year by the Baseball Writers' Association of America (BBWAA).
Alonso received 29 of 30 first-place votes and garnered 148 of a possible 150 voting points. He is the second Mets position player (also, Darryl Strawberry in 1983) and sixth player in club history overall to win the award. Four Mets pitchers have also been named Rookie of the Year: Tom Seaver (1967), Jon Matlack (1972), Dwight Gooden (1984) and Jacob deGrom (2014).
The 24-year-old put together one of the greatest offensive seasons ever by a rookie, setting numerous Mets and major league records. Most notably, he became the first Met and first rookie to lead the majors outright in home runs, swatting a major league rookie-record 53 blasts.
"I am so grateful to the Baseball Writers' Association for their recognition," Alonso said. "I'm truly blessed and humbled to be part of a group of some of the best to ever play the game. This season was the most special time I've ever had on a baseball field. I'm extremely thankful to the Mets for allowing me the opportunity to prove myself at the major league level this year. I can't wait to get back to work in the spring and make a push for the postseason in 2020."
Alonso was a three-time NL Rookie of the Month honoree, taking home the award in April, June and September. The only other players to win three NL Rookie of the Month awards are Jason Bay (2004) and Juan Soto (2018).
In addition to setting Mets club marks for home runs, extra-base hits (85) and total bases (348) in his first major league season, Alonso also established club rookie records for hits (155), RBI (120), runs scored (103), at-bats (597), plate appearances (693), games played (161), slugging percentage (.583), OBP (.358) and OPS (.941). He tied the club rookie record with 72 walks.
"Pete's historic rookie season created great memories and thrilled Mets fans all year," Mets COO Jeff Wilpon said. "We are very proud of how he represents our fans, teammates and the organization on and off the field with his energy, enthusiasm and passion."
Alonso became the first rookie position player in Mets history to be named to the NL All-Star team. He was the first rookie to win the Home Run Derby outright as well, defeating fellow rookie Vladimir Guerrero Jr. in the final round. In the Midsummer Classic, he went 1-2 with a two-run single and a stolen base, making him the first rookie with multiple RBI in an All-Star Game.
"Pete was a joy to watch all season long for our passionate fans as well as all of us in the organization," Mets Executive Vice President and General Manager Brodie Van Wagenen said. "We're so proud to see his on-field results match his tireless work ethic."
Alonso led the NL in extra-base hits, was second in total bases, third in RBI, sixth in slugging and seventh in OPS. He led all qualified rookies in games played, hits, home runs, RBI, OPS, extra-base hits, runs scored, walks, total bases and slugging percentage.
Alonso will receive the award during the 97th Annual New York Baseball Writers' Dinner on January 25, 2020 at the New York Hilton Midtown Hotel.
# # #