Yankees' Gary Sanchez Swinging the Bat like the Sanchez of Old
Can Gary Sanchez continue his month-long hitting tear?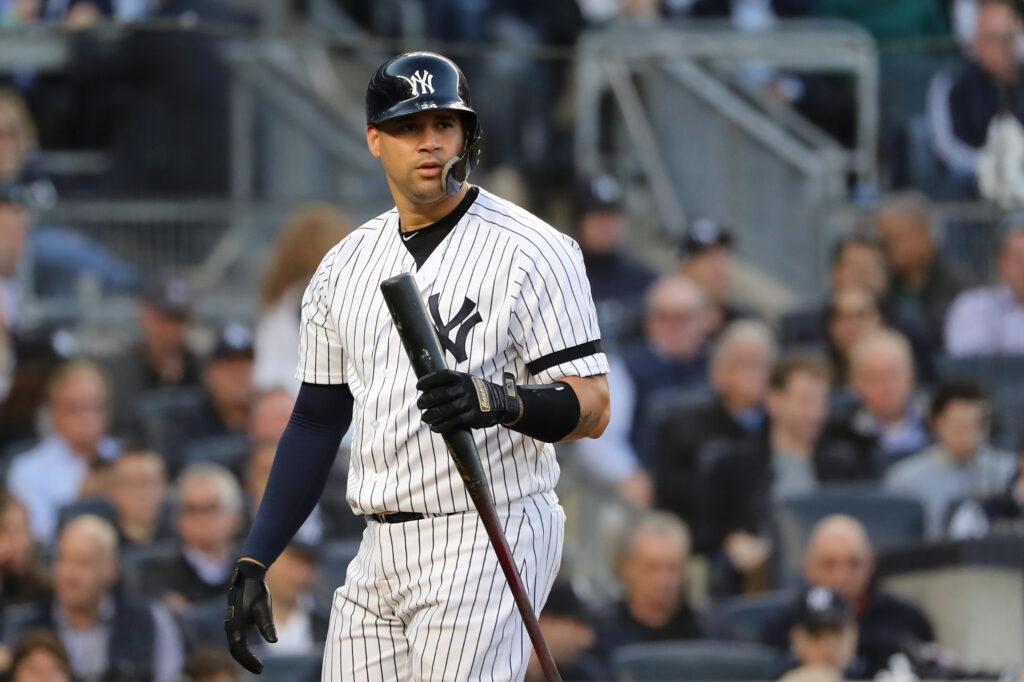 By Scott Mandel
Whatever one thinks of Yankees catcher, Gary Sanchez' career ups and downs, his statistical averages, taken over a 162-game season, are comparable to the numbers put up by the greatest catchers in baseball history.
Sanchez's career productivity has had as many ups and downs as the Yankee Stadium VIP elevator, except with that elevator, you know what floor you're going to by pushing the buttons. With Sanchez, over his seven year career, no one in American League history has reached 100 home runs for a career as fast as Sanchez did, reaching that spectacular achievement in his 355th career game. He has hit over 30 home runs twice, made two All-Star teams before his 26th birthday, and is considered to have the best throwing arm among catchers in the sport.
More so, let's look at how Sanchez compares to the game's greatest offensive catchers over the past 75 years or so. Johnny Bench, considered the benchmark at the position over the past 50 years and a Hall of Famer, averaged 29 home runs, 103 runs batted in, and had an OPS of .817 over a 162-game schedule, a full season ofmajor league baseball. Yogi Berra, another great Hall of Fame receiver from the 1940s through 1965, averaged 27 homeres. and 109 rbi's over 162 games, with an OPS of .830. These two players were the cream of the crop, at the catching position. How does Gary Sanchez compare? Over 162 games, Sanchez is averaging 43 home runs, 106 runs batted in, and has an OPS of .822. His production with a bat in his hand not only is equal to the greatest offensive catchers in the game's history, it is exceeding those who came before him.
But, Sanchez has not had a perfect career, as his seasons hitting under .200 have also been marked by more strikeouts than hits in a given season as well as inconsistent defensive deficiencies behind the plate, struggling to block pitches in the dirt, frame strikes for his pitching staff, and lacking the "soft hands" found in the skill-set of top of the line defensive catchers, who tend to save more runs which leads to more wins.
His struggles have been so obvious that Yankee manager, Aaron Boone, inserted career backup, Kyle Higashioka, into the starting lineup during the playoffs last year, essentially taking Sanchez's job during the most important time of the year, the post-season.
It has also led Yankee brass to wonder privately if it is time to move on from Gary Sanchez, especially the "bad" version of the player. The problem is, when Sanchez goes on one of his offensive tears, it can last a month or two and, he can literally carry this team on his shoulders with his offensive firepower.
Then, there are the times when his sheer talent teases Yankees brass and fans, alike, with majestic 450-foot home runs, solid defense and great throws down to second base catching runners trying to steal the base. The contrast between the two Sanchez's is stark but, when he is performing at his optimal levels, he produces in a manner most long-time observers have not seen from baseball catchers over the last century or so.
After starting out this season, over the first month batting well below .200, the Yankees catcher has morphed into the younger Sanchez, who terrorized American League pitchers with his perfect home run swing and his ability to
"barrel-up" pitches with solid contact. Over the past 25 games, dating back to the end of May, Sanchez is slashing .294/.345/.667 for an OPS of a whopping 1.012. And his .333/.391/.905 slash line in the last week has been crucial to the Yankees' 5-1 record against the Toronto Blue Jays and Oakland Athletics. Especially considering that both Aaron Judge and Gleyber Torres are slumping.
There is constant chatter on sports talk radio and in the print media about the 28-year old Sanchez never reaching his full potential. Many have suggested, at this moment of his latest hitting streak, now is the time to trade him when his value is rising high, once again. That is a debate Yankees general manager Brian Cashman has been having with himself and with his staff for three years, since Sanchez began to falter badly, both offensively and defensively.
But, make no mistake, among major league catchers, past or present, very few have come close to the sort of offensive output Gary Sanchez has shown, over a full season.
All players tend to be a little streaky but the Yankees would love to see Gary even out or shorten some of those down periods during a typical season. The inside word has been about trying to get him to focus a little more, pitch by pitch (on both sides of the ball) than he has in the past.
And he's only 28 years old. So, the debate rages on whether to stick with him or cut bait. It says here, Sanchez will hit 40 homers for another team if he's traded. Why not let him do it in the Bronx.