Braves Shut Out Mets as Stroman Exits Game
Mets "Luck" Getting Worse as Stroman Leaves Game in Second Inning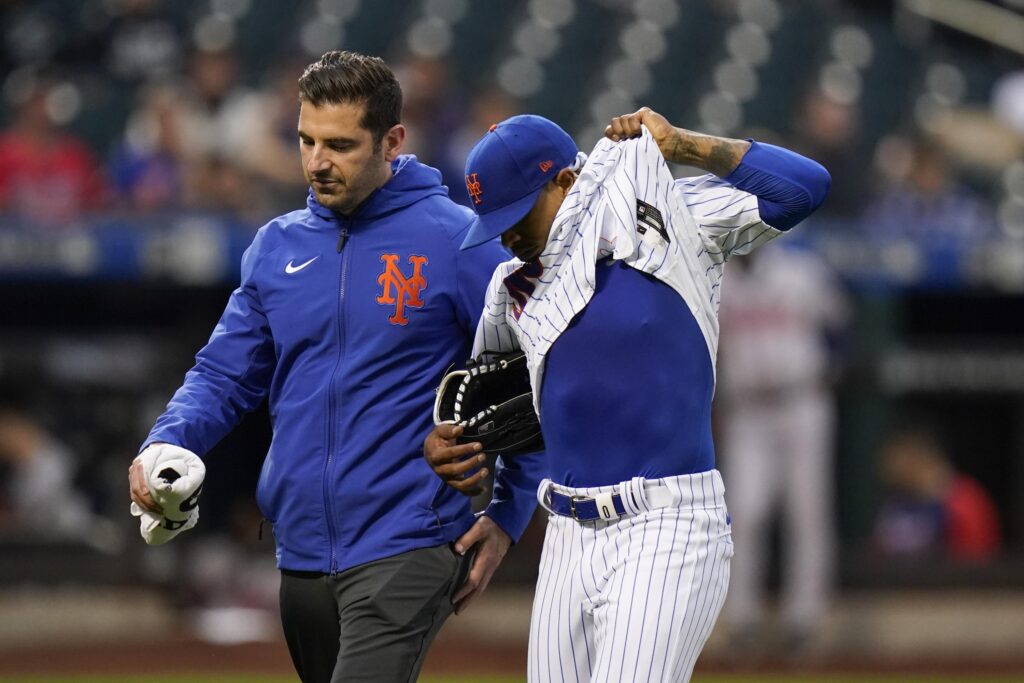 By Scott Mandel
As if the Mets pitching staff hasn't suffered enough injuries to last an entire season, another shock to their increasingly fragile system took place tonight at Citi Field when number two starter, Marcus Stroman had to leave the game against the Atlanta Braves in the second inning with what the team was calling "left hip soreness."
Stroman lasted just the first frame before leaving three pitches into the second inning. He asked to remain in the game, but was clearly uncomfortable, unable to follow through on his warm-up pitches, and told manager Luis Rojas he may have hyperextended something in his hip after a pitch in the second inning.
"He wanted to stay in, but I think it was wise to come out," Rojas said after their sixth setback in eight games. "Just be cautious. You can hurt something else."
As for the game itself, which almost took on a secondary role after Stroman's sudden departure, the Mets could only manage two hits in being shut out by Charlie Morton and the Braves, 3-0. One of the hits, an infield single, was by a pinch-hitter, Jared Eickhoff, who also happens to be a new pitcher added to the staff. Rojas also was forced to use another pitcher, starter David Peterson, as a pinch-hitter, a sure sign the roster was significantly short-handed tonight.
For the first-place Mets, still four games in ahead of the second-place Brave, they are already perilously close to a developing dire pitching scenario after losing their fifth starter, lefthanded Joey Lucchesi, to Tommy John surgery and two key relievers, Jeurys Famiglia, with a hip impingement and Robert Gsellman, a torn latissimus dorsi muscle (two months) over the past two days. If Stroman is out for an extended time, it could be devastating.
"We have to wait and see," Rojas said of Stroman, who got tested for strength and range of motion in his hip after the game. "I think we may have caught it before it was something worse."
Stroman was replaced by Yennsy Diaz. Right. Who is Yennsy Diaz seems a fair follow-up question.
Diaz, after giving up a walk and a single, served up a meatball fastball on a platter to Dansby Swanson, who deposited the ball into the left centerfield stands for a three-run home run in the top of the third. Braves up, 3-0.
The bullpen came in for the Mets and essentially shut down the Braves' potent office. Diaz gave up that homer but after that, Drew Smith, Adam Loup, and Trevor May closed the door on any more runs. Unfortunately, the Mets offense couldn't figure out Carl Morton, who struck out 11 Mets in his seven inning stint. It was as feeble a display from the Mets bats as we've seen all season.
As for the Mets pitching staff, it looks like they may have to make a transaction or two if they want to stay in the post-season race.
Noah Syndergaard isn't expected back until September following a setback in his recovery from Tommy John surgery. Carlos Carrasco is still not throwing off a mound, and has yet to appear in a game this season after tearing his right hamstring during spring training. Jordan Yamamoto is only tossing lightly, and isn't eligible to come off the 60-day IL until late July due to a shoulder injury. Prospect Thomas Szapucki has a 7.11 ERA for Syracuse this month.
And, of course, everyone associated with this team takes a deep breath every time Jacob deGrom takes his turn on the mound.
"I think, realistically, we're still in June. It's not even July yet, so we're still looking at a market that, the prices tend to be pretty high until you get closer to that deadline," acting general manager Zack Scott said before the game. "I'm on the phone a lot still trying to see what is out there, what's available to us and figure out what the acquisition costs are for any players."
Veteran Jerad Eickhoff threw four shutout innings in the second game of Monday's doubleheader, giving the Mets one possible option moving forward. They claimed hard-throwing right-hander Robert Stock off waivers from the Cubs on Tuesday and sent him to Syracuse. A reliever, Stock could at least help fill the void left by Gsellman.
Acting G.M. Scott will have to work his magic, above his pay grade, to save this Mets season from spiraling out of control.