Mandel's Musings: Former Mets Ace Matt Harvey On a Resurgence with Orioles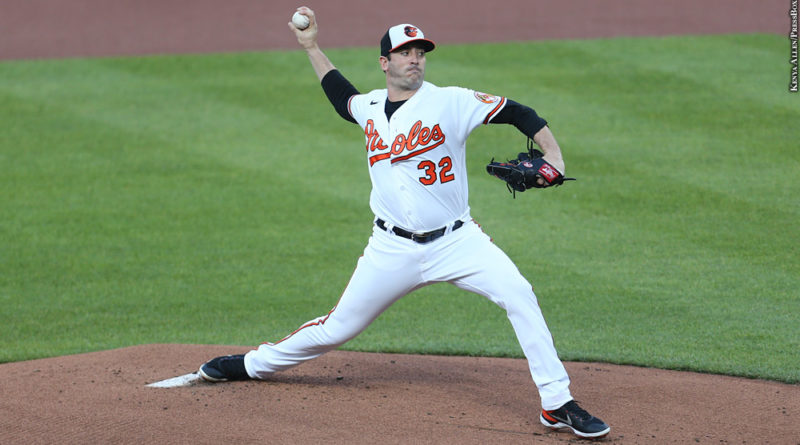 By Scott Mandel
Matt Harvey is enjoying a bit of a renaissance so far in the second half of the season.
The Orioles' veteran right-hander has not allowed a run in two starts (12 innings) since the All-Star break. Harvey also managed consecutive scoreless starts for the first time since August 2015.
"Obviously, everybody knows when it is and it's there, but really, my job is to go out and prepare for each start and see what happens," Harvey said. "I haven't put up very good numbers other than the previous two and to really be a target or whatnot, but at the end of the day those decisions aren't mine and I can't really worry about them.
"My job is to go out and win ball games for the Orioles, and luckily I've been able to do that the last two, and I'm going to continue to do that from here on out."
On July 18, Harvey (4-10) threw six scoreless innings of three-hit ball with two strikeouts and one walk, throwing 48 strikes with 26 balls in a 5-0 win against the Kansas City Royals. He earned his first win since May 1 at Oakland, snapping a 12-start winless skid during which he went 0-9 with a 10.20 ERA (51 earned runs in 45 innings).
Harvey earned a bear-hug from Orioles manager Brandon Hyde after he left the game. Hyde knows Harvey has the mechanics to have dominant outings, but he is still experiencing some challenges from being limited as a pitcher during the last couple of seasons.
"There was a hug in the dugout just because he wants to go deep in the game and he wants to get back to the form that he was in 2012-2015, and he works extremely hard at it," Hyde said. "He's disappointed with not going deeper in games and the fourth and fifth inning issues he's kind of had. I think a lot of that is physical, too. The year layoff, the weird year he had the year before, injury stuff. But for him to get an extended period of rest and go out and really keep his pitch count down, for me that's the huge thing with our starters.
Harvey's next start was equally impressive.
Harvey threw six scoreless innings in a 5-3 victory against the Washington Nationals July 24. He allowed just one hit with four strikeouts and no walks.
Harvey's ERA has fallen from 7.70 on July 24 to 6.65 as of July 27.
He is becoming increasingly more comfortable on the mound.
"I think the last time I had this many starts was 2018 in a continuous year, so it was definitely good to physically have the break," Havey said. "And then obviously when you feel like it's so close and you go out and one inning here and there gets the best of you, it gets a little mentally draining, as well.
"So, I think definitely being able to just kind of flip the switch and just really pretend I'm starting fresh and trying to concentrate on being out there every fifth, sixth, seventh day, whatever it is with all these off-days, and just trying to win as many games as I can for this team and really just kind of start over and flush what happened in the first half."
Harvey signed a one-year, $1 million deal with the Orioles prior to the season. There was speculation that the Orioles would try to flip him at the trade deadline if he thrived in his new environment.
The idea seemed far-fetched just two weeks ago, but now Harvey could have some value.
After this up and down season, he's prepared for anything.
"My job is to go out and prepare for each start and see what happens," Harvey said. "I haven't put up very good numbers, except for the previous two starts, to really be a target. But at the end of the day, those decisions aren't mine, so I can't worry about them."