Knicks, On Six-Game Winning Streak, Are Making Spring in NYC and Madison Square Garden Hotbeds of Basketball, Again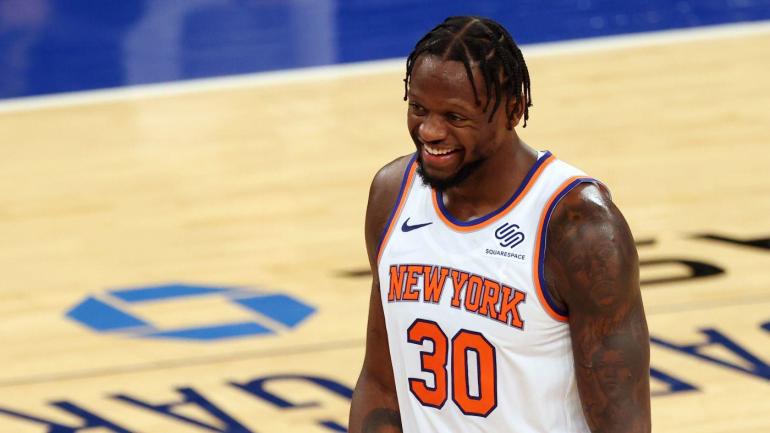 by Scott Mandel
It's springtime in New York City. The weather is turning warmer, vaccines are going into arms, and New Yorkers are walking around again with a hop in their step (still masked and socially distanced). The Mets seem to be on their way, led by an effusive new shortstop. The Yankees are in forlorn, stale despair after just 15 games but few believe they won't be in the post-season when all is said and done. But, April in New York City of any given year, is the month when this town rocks like no other when its New York Knicks are relevant. Unfortunately, the Knicks have not been relevant in over 20 years so April springs in this town haven't rocked, all that much. Until now.
Because the Knicks, on a six-game winning streak and playing defense like Oakley and Mason and Ewing and Frazier, Reed, and DeBusschere played it, are relevant, again. They're in the fight for the playoffs, an event they haven't participated in since 2013, currently sitting in the sixth spot of the Eastern Conference, knocking on the door of fourth place.

The excitement is palpable, on the streets and in the drinking establishments. And, it grows with every win or well-played game. As rabid as New York sports fans have always been towards their teams, there has never been a greater love affair between any fan base and its team than Knicks fans for their hoops team. NYC has forever been where the sport of basketball was, if not born, certainly developed its personality, its creativity, and raised its skill-levels, across the five boroughs on its concrete playgrounds. New Yorkers feel like basketball is the city's game, more so than any other sport. That's what makes the decades-long failure of the Knicks franchise to win a championship so incredulous.

And, here is another example of what happens when the Knicks are playing well. The stars of the NBA take note.
As Zion Williamson, the young NBA star and the next LeBron James (in skill and branding) said last night after playing his first professional game at Madison Square Garden, getting soundly defeated by the Julius Randle-led Knicks, "New York is the Mecca of basketball. I love playing here. I played here in college and this is my first time playing here in the pros. And this atmosphere, whether they're cheering or booing for you, it's amazing."

Then he smartly threw a bone to his New Orleans Pelicans fans, who no doubt will begin to fear Zion has his eye on playing for the Knicks, someday, "Outside of New Orleans, obviously, this might be my favorite place to play." You could tell he didn't mean one word of that. For this 21-year old kid, MSG is the place and NYC is the town, if you are a basketball player. The Mecca is The Mecca, again.

It's funny how a little winning basketball from the Knicks changes perceptions, almost overnight. Kyrie Irving and Kevin Durant, free-agent superstars, chose to take their talents across the East River to Brooklyn rather than play for a losing franchise in Manhattan with a bad owner. Today, one could imagine those two players, if they were making the same decision, might have teamed up to play at The Mecca instead of the arena named for the Barclays Bank.

If anyone thinks the Canyon of Heroes parades in the past were incredible for the championship-winning Yankees and the football Giants and even the '69 Mets, those will be nothing compared to what a Knicks championship would look like in this town.