SportsReporters' 2019-2020 NBA Previews: Brooklyn Nets
Brooklyn is in the house!! In the NBA, that is. Will Irving (without Durant) be able to improve this team over last season?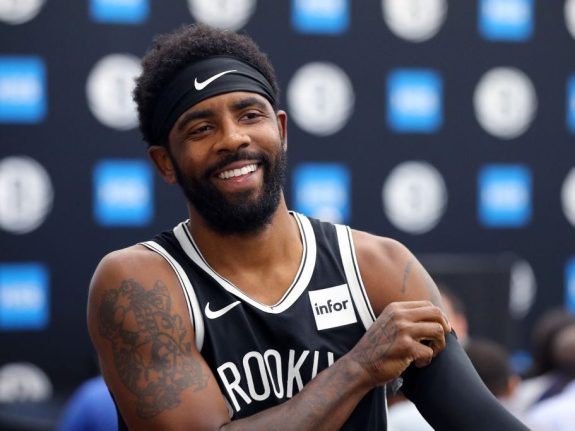 The Brooklyn Nets enter the 2019-20 NBA season with very different expectations than they did a season ago. Lots of teams enter training camp talking about culture and/or how they're being overlooked. Well, the Nets were one of the few teams that were right in 2018-19. They entered last season having won only 28 games the season prior and ended the season with 42 wins and a playoff berth.
The Nets swapped out D'Angelo Russell for Kyrie Irving, they return a fully healthy Caris LeVert and they still have Kevin Durant to look forward to in 2020-21. Further, they fleshed out their depth at the center position and swapped out Allen Crabbe for Taureen Prince. Long story short, the Nets are ready for the national spotlight. Now they'll have to live up to the hype instead of playing above expectations.
You have to give coach Kenny Atkinson, a local guy from Long Island who played point guard at the University of Richmond, credit. He's changed the culture of this moribund organization know mostly for its losing ways. The Nets became contenders quickly – going from the laughing stock of the league to the envy of it in about two years. Even with Durant missing most – or probably all – of 2019-20, the Nets will still boast top-10 talent.
They'll be fun this season and if Durant returns to form in 2020-21, look out. The one caveat for 2019-20 is if Kyrie can put his ego aside and be the Nets on-the-court leader. He struggled to do so in Boston. But last year was a learning opportunity and Irving should be better prepared to be a team-centric leader with the Nets this year.
Sean Marks, their general manager who learned how to construct an NBA team from the geniuses in San Antonio, Gregg Popovich and the general manager, R.C. Buford, inherited a mess of a team when he took over in the front office, and he's done a remarkable job of cleaning it all up and putting a real contender together. Brooklyn has become a destination for marquee players and that was evident this past summer. Taurean Prince, Garrett Temple, and Wilson Chandler were solid pickups. Jarrett Allen and Rodions Kurucs were spot on draft picks. It will be huge if this team can manage to win a playoff series while Durant recovers.
Key Players:
Jarrod Allen
A major knock on Jarrod Allen was on full display in the postseason last year against Joel Embiid and Philadelphia. Embiid made a habit of bullying Allen in the post, and Allen simply couldn't hold his ground. But according to Nets Daily, Allen added 10 pounds of muscle this offseason, which will come in handy when battling bigger and more physical opponents – and which could help separate him and other above-average rim protectors as early as this season.
Top Playmaker: Spencer Dinwiddie
Spencer Dinwiddie attacks the basket with supreme confidence – he averaged a career high 6.6 points in the paint in 2018-19. But he can also dish the rock, too. He averaged 6.6 assists per game in 2017-18 and 4.6 in 2018-19.
He'll probably play alongside Irving a bit but since the Nets lack true point guards, he'll also almost certainly rack up minutes as the lead guard for the Nets' second unit, allowing him to demonstrate his ability to create for others.
If Dinwiddie can shore up the second unit, the Nets will – once again – boast two top-tier point guards. And the drop off from Irving to Dinwiddie might be the smallest across the entire league as far as starting and backup point guards is concerned, which is a huge buoy to a team's offensive continuity.
Top Clutch Player: Joe Harris
Joe Harris gained national attention in the last year or so, thanks entirely to his shooting ability. Harris is definitely more than just a shooter, but he is also a certifiable assassin from long-range. He shot 45.9 percent from three-point range last season and ran around screens at an elite level – according NBA.com, Harris ranked 5th in the league in average speed on offense at 5.17 mph. He also shot 47.9 percent on 4.2 attempted catch-and-shoot three-pointers per game.
Also, his time with Team USA this summer should only improve his game and work ethic, having been exposed to superstars and their processes, including Kemba Walker and Jayson Tatum.
Harris' unassuming approach and demeanor also make him a perfect fit with other similar-minded Nets like Jarrett Allen. And having a team-first shooter like Harris is a must for teams hoping to compete for a championship (e.g., Kyle Korver).
The Unheralded Player: Caris LeVert
It might be a stretch to call LeVert unheralded, but the presence of guys like Irving and (eventually) Durant will allow him to fly under the radar, even after a quasi-breakout year last season.
Fresh off of a three-year extension with the Nets, LeVert can now put financial distractions aside and focus exclusively on his game – not that that's been an issue. He looked primed for an All-Star selection through the first few weeks of last season, but an ankle injury derailed his year and cost him more than 30 games.
A healthy LeVert will benefit from the increased offensive threat that is Kyrie Irving. He is an ideal third option alongside Irving and Durant come 2020. But LeVert will happily develop his game as the second option this season next to Irving – and the Nets could find themselves contending for an NBA title if LeVert takes his game to the next level.
Best New Addition: Kevin Durant
As much as Durant doesn't affect the on-the-court product this season, building a dynasty is about much more than one year. Durant's addition truly validates the Nets ascension. They have completely arrived as a force to be reckoned with. Irving was a great addition and boasting a strong core and excellent coaching staff is equally important, but adding a top-three active player moves the needle in the NBA like few other things can. Durant has the luxury of being patient with his rehab and recovery. While rumors already began to circulate about Durant's return thanks to video of him walking without crutches in Los Angeles this summer, it's more likely than not that Durant takes his time and returns at the start of the 2020-21 season. And the Nets should do everything in their power to ensure that is the case – unless his recovery is so far ahead of schedule that the team and every expert available all agree that he there is no doubt he is back to 100%.
2. DeAndre Jordan
As much as Allen is the Nets' defensive anchor, he struggled defending Embiid in the playoffs (as stated above). Jordan's game is very similar to Allen's, only he is 10 years older and approximately 30 additional pounds heavier. Having two starting-caliber centers who can't share the floor with one another – neither of them can stretch the floor – might be unusual for the modern NBA, but it also guarantees that they'll always have a shot blocker and rim runner available. Signing Jordan to a four-year deal with no team options was curious, but he's obviously a good addition.
THE BURNING QUESTION
Can Kyrie Irving play nice with others?
It's hard to say so with certainty. His recent past doesn't speak highly of his ability to do so. He abruptly asked for a trade from Cleveland, and then he wore out his welcome in Boston thanks to an allegedly holier-than-thou attitude.
But Brooklyn might be different. After all, he likely won't have to endure any prolonged periods of subpar play, which could change his thinking on things – and that probably won't happen given the level Coach Atkinson had his team operating at last year.
And further, Irving had selected Brooklyn as his destination of choice. While he requested out of Cleveland, Boston was not on his short list of preferred teams. We haven't seen a prime, locked-in Irving since the 2016 NBA Finals. His recent experiences will serve him well in his dealings with Durant, LeVert and his other teammates.
Additionally, Irving's played for some accomplished coaches – but none as universally loved by their teams as Coach Atkinson is in Brooklyn. And because of that, Atkinson can get even more out of Irving than did Mike Brown, David Blatt, Ty Lue or Brad Stevens.
So if Irving is willing to be a big brother to his teammates and help lead the way, he'll have the requisite support of his coaches – and that could result in the 2019-20 version of Irving being the best we've seen yet.