Lance Stephenson, Indiana Pacers Star Eight Years Ago, Returns to Indiana with Stunning Performance vs. Brooklyn Nets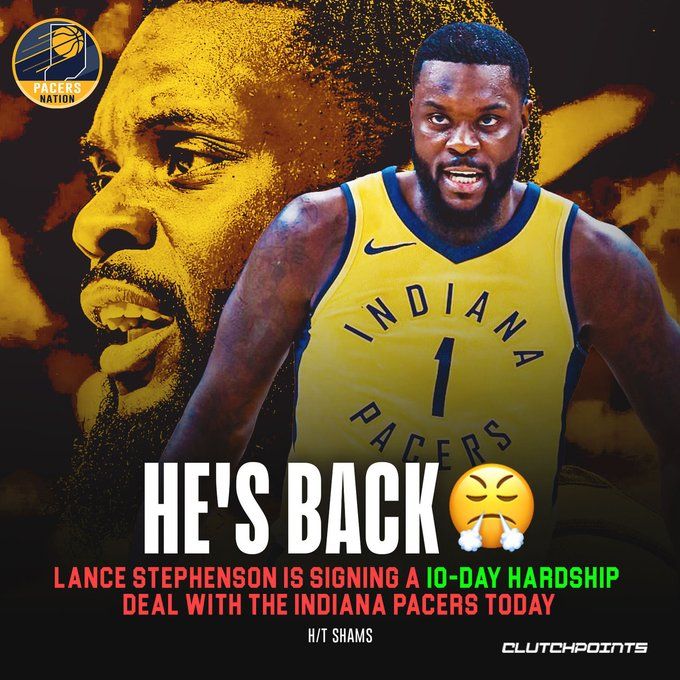 By Scott Mandel
Indiana head coach, Rick Carlisle's comments after last night's game, a 129-121 Brooklyn Nets win over the Indiana Pacers, reflected who the dominant player of the game turned out to be. It wasn't Kyrie Irving, that's for sure.
"When Lance Stephenson is in the game, his best position is point guard. He makes things happen, he has great vision and has the ability to get hot. The run that he went on when he first went in was amazing."
The run Carlisle is referring to was Stephenson setting an NBA record for most points ever scored by a substitute off the bench in the first quarter of a game. Stephenson came off the bench to a standing ovation from Pacers fans at the 5 minute mark of the first quarter. When the quarter ended seven minutes later, he had rung up 20 points. More precisely, he scored 20 consecutive points for his team in seven minutes.
Stephenson, who returned to Indiana for a third time in his career last night after being drafted in the second round by the Pacers way back in 2010 as a 19-year old, is now a 31-year old grizzled veteran, playing on a 10-day Covid hardship contract after no NBA team was willing to give him an opportunity to play in the league since the 2018 season, when he played for the Los Angeles Lakers. Stephenson had to take his talents to China to play followed by his return to the United States in 2021 to play minor league basketball in the NBA G-League.
Carlisle, in his first year as Pacers coach, was effusive in his praise for Stephenson:
"There were some great moments tonight, and where we are right now, we need more of it. We know that he's gonna bring energy and attitude and a level of physicality to the game that's necessary."
Sounds like a competitive and tough-minded Brooklyn kid to me. It also sounds like a coach who is developing confidence in Stephenson's skill-set, something the 6'6″ 225 pound guard has always desired during his NBA days. His on-the-court demeanor has always been a little "dfferent," going back to his blowing into LeBron James' ear during the heat of a playoff battle, followed by his on-court gyrations and air guitar playing after he scored baskets. But, at his core, he's always just been a kid who needed an authority figure/coach to allow his unique talents – power, court vision and the ability to score/pass/rebound to flourish.
In Rick Carlisle, desperate to structure a losing Pacers season into one fans will turn out to watch, Stephenson appears to have a coach who's going to run his offense through him.
Stephenson should have been one of the highest paid players in the league instead of playing for the league minimum on a 10-day tryout. At age 31, Lance Stephenson is going to try to reclaim his talent and actualize it.
It's a story worth watching.