Joey Gallo, Yankees Left Fielder, Needs A Change of Scenery While Michael Conforto Remains Available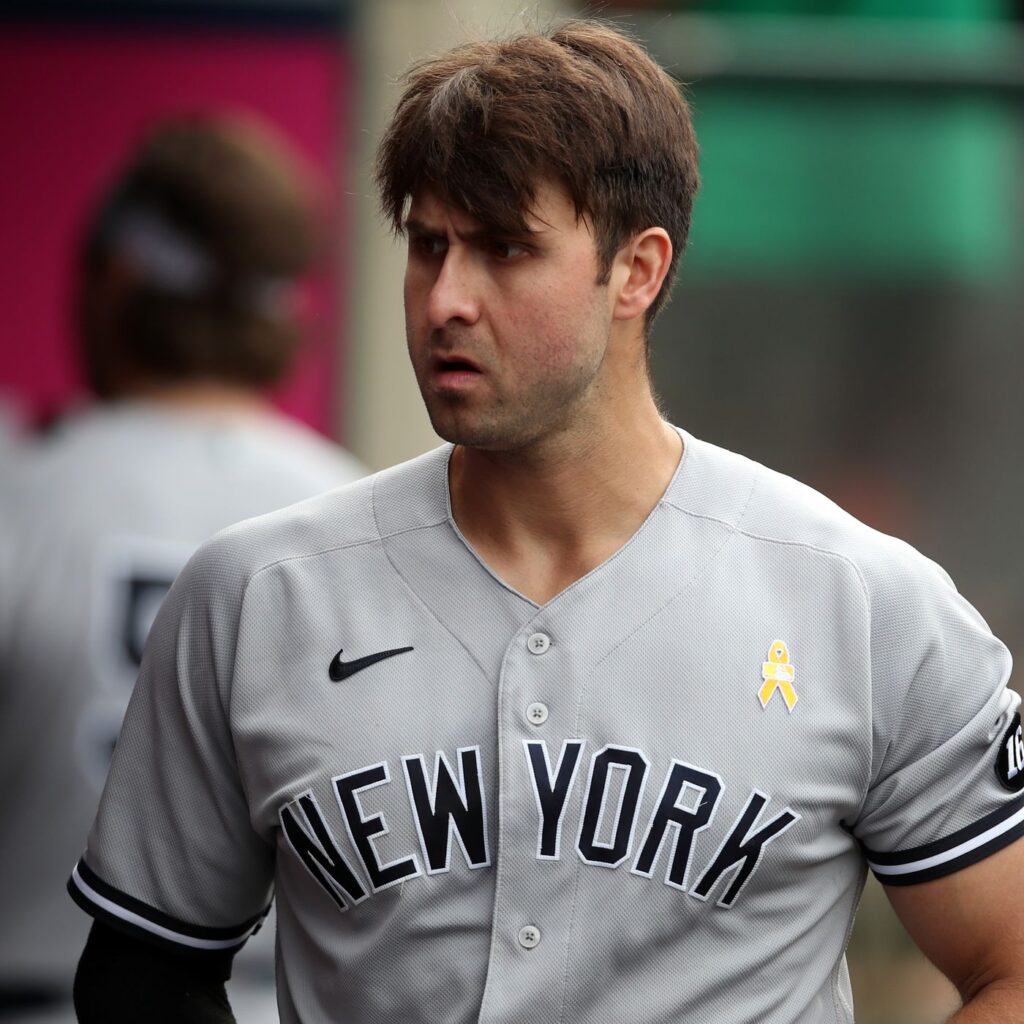 By Scott Mandel
It appears the Joey Gallo era in New York City, under the hot, bright lights of Yankee Stadium may soon come to an end. Insiders tell sportsreporters.com the Yankees are hoping to showcase the troubled left fielder for the purpose of trading him.
That would be a terrific idea. The sooner, the better. And, who should replace Joey Gallo in the outfield? Someone who has proven he can perform at the highest levels in the big city, under the glare of the demanding media and fans alike, in pennant races and against tough right and left-handed pitching who can take full advantage of the short right-field porch in the big ballyard in the Bronx.
I give you, Michael Conforto.
The guess here is, Yankees fans would rather see Conforto run out to left field for the Yanks than Gallo, a guy who appears to be suffering with emotional stress and facial tics brought on by a condition nobody is talking about. But, whatever Gallo is sadly afflicted with, it appears playing in New York triggers his stress and his ability to perform on the field.
I feel for the kid but he needs a change of scenery.
This big, noisy stage of NYC is not everyone's cup of tea. It can be a pressure cooker. That's why I always remind my California pals who rave about the "great" Mike Trout that Trout, for all of his wondrous talent and gifts, has not performed under the blaring lights of Broadway nor has he battled under the pressure of a pennant race at any point in his career. Talent is talent but sometimes, the pressure cooker wins out.
Gallo, who has enormous power when he connects his bat with a pitched ball, has struggled to make that particular kind of contact since joining the Yankees last season. In 69 games in pinstripes, Gallo has 34 hits in 221 at bats, a batting average of .153. In his first 11 games this season, he is 4 for 33, a .121 average with ZERO homers and ZERO runs batted in. He has become a strikeout machine, having struck out 103 times in his 221 at bats, a rate that would have him striking out nearly 250 times over a full 500 at bat season. If he was hitting homers and driving in runs, his low average could almost be excused but the power display he always possessed seems gone, for now. Even if he goes on one of his streaky home run weeks, it seems his incompetence as an automatic out the rest of the time hamstrings the Yankees' lineup on most nights.
Conforto, a left-handed power hitter and a starting outfielder for the Mets with an All-Star appearance, pennant race pressure, and a World Series on his resume is 29 years old and in the prime of his career. He remains unsigned for this season, having turned down the Mets last offer of $100 million for six years on the advice of his agent, Scott Boras. He has not played baseball nor has he gone through spring training so his season. is perilously close to being ruined, if not his career. I would say there is a mutual and pragmatic need on the part of the Yankees and Conforto to come to an agreement as soon as possible.
Conforto will require 4-6 weeks of spring training and then he will need to go to the minor league for 2-4 weeks to play games and face live pitching. This is turning into a horrible scenario for this talented outfielder, who looks like he won't be available until the All-Star break in July.
Conforto has not done well on the advice of Boras, whom he should probably fire. Coming off a down year during the Covid season of 2020 and having no at bats this year, he is no longer dealing from strength in any negotiations with major league teams. Any thoughts of getting the contract his agent guaranteed has turned into flights of fancy.
Sources tell me Conforto wants to make a deal for one or two years and regain his footing as a dangerous left-handed hitter. He knows his leverage is almost gone, while not playing baseball in 2022, with a dozen games already on the books, is hurting him.
Note to Brian Cashman: Cut bait with Gallo for a Double A flame-throwing pitcher and bring in Michael Conforto, a lefty bat who has performed beautifully in this town who would take aim at the short porch in right field. Put him in the five or six hole and away you go.