Former Giants Busts, DeAndre Baker and Eli Apple, May Hold the Key to Bengals or Chiefs Super Bowl Chances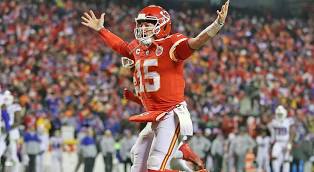 by Scott Mandel
Next week, two former NY Giants cornerbacks, both drafted in the first round by Big Blue, will be playing in the American Football Conference championship game between the Kansas City Chiefs and the Cincinnati Bengals, with the winner going on to play in the Super Bowl, that game with all that great halftime entertainment and great football food, like pigs in a blanket.
For DeAndre Baker of Kansas City, the Giants 1st round pick in 2019 from the great University of Georgia program and Eli Apple of Cincinnati, whom the Giants chose with the 10th overall pick in 2016 as the first cornerback in that draft class out of Ohio State University, it's been a long hard road to get to this pinnacle of their sport.
From gun and robbery charges and serious injuries for Baker to mental health accusations thrown in Apple's direction, both young men were considered busts as NFL players.
Now, Eli Apple and DeAndre Baker will each be facing two of the greatest young quarterbacks in the history of the sport. How they perform can very well be the difference between their teams going home or going to the Super Bowl to play for the championship of the sport and the most-watched sporting event in the country.
Apple and Baker, as cornerbacks, will be charged with the sole responsibility of preventing Patrick Mahomes and Joe Burrow from doing what these two outstanding QBs do better than almost any other quarterback has ever done, particularly at such young ages (under 25), in the history of professional football. They complete passes, throw multiple touchdowns and, embarrass opposing cornerbacks at an alarming rate. Over and over again.
We will be paying close attention to these two young star quarterbacks this entire week but it is DeAndre Baker and Eli Apple, the former college All-Americans who turned into NFL busts who will be given a chance at redemption this Sunday, in the biggest game of their lives. Baker and Apple will try to recover their soiled and sordid reputations, back to the time they entered the league as college stars.
Both players may well hold the result of this game in their hands, either by allowing a touchdown to be scored against them as they lose track of the opposing teams' great receivers or, by picking off a pass and taking it to the house, sending their team to the Super Bowl, with the crowd going crazy in the stadium and more than 100 million viewers watching on television.
We know both of these kids are dreaming big dreams of being heroes, which is exactly what they used to be on campus. The alternative is, of course, nightmarish, something both Mahomes and Burrow are used to inflicting on opposing cornerbacks. They can light up the sky with passes and points.
DeAndre Baker and Eli Apple are playing for much more than a Super Bowl berth. They are playing to turn their lives around.