Phil Mushnick, New York Post's Sports Media Critic, Still A Force After 47 Years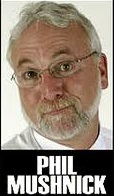 by Scott Mandel
With all due respect for the great sportswriters of the often-silly New York Post, my personal hero of that sports department is the non-politically correct, opinionated, tough-talking (but fair), worldly Staten Island-based buddy of mine, Phil Mushnick.
Phil used to be the "media guy" for the Post's sports section, the television and radio columnist commenting and critiquing on how sports is covered by the talking heads as well as the print media. But, he's spreading his wings a bit lately and has been producing a column with broader strokes. You may not always agree with what Phil says, but he says it with great aplomb, and doesn't really care if you don't agree with him. He's authentic. The real deal.
A few years ago, Phil wrote a scathing piece about the hip-hop superstar, Jay Z, who had become a part owner of the Brooklyn Nets basketball team. Mushnick had a problem with Mr. Z's misogynistic, racist lyrics in his songs, those lyrics providing Mr. Z with the funds to become an NBA owner. The firestorm of negative reaction from the public was enormous. How dare a writer reproduce the actual lyrics of "99 Problems," the big song off of Mr. Z's 2004 album entitled, The Black Album, as Mushnick chose to do, an action backed by his editors at the Post.
I wrote a piece defending Mr. Mushnick's right to express his opinion, and how correct his opinion about Mr. Z's lyrics was. Phil's point of view, among many, was that Jay Z making millions of dollars on the back of misogyny and racist messaging ran counter to the mission of the National Basketball Association. Or, it should have run counter. Phil questioned which way the NBA was going to attract fans if someone like Jay Z could become a high-profile team owner.
Mushnick got my number from a mutual colleague and called me at home, thanking me for the support at a time his career might have been hanging by a thread. Ten years later, Mushnick is still at it, and that's a good thing.
Here's a recent piece of Mushnick's. We'd love to hear what you think.
https://nypost.com/2021/02/27/chris-russo-should-raise-holy-hell-with-pat-mcafee/?fbclid=IwAR03SDd9NHooA7wftRUUn5gdV7rZ-KZM43-w1_lsXo_nrqMu7Xv6osgSxK4