Legend of Mike White, NFL Quarterback, Continues on Thursday for Jets. Could He Be THE ANSWER?
The lowly Jets played better yesterday with Mike White at quarterback. Will he hold onto the job?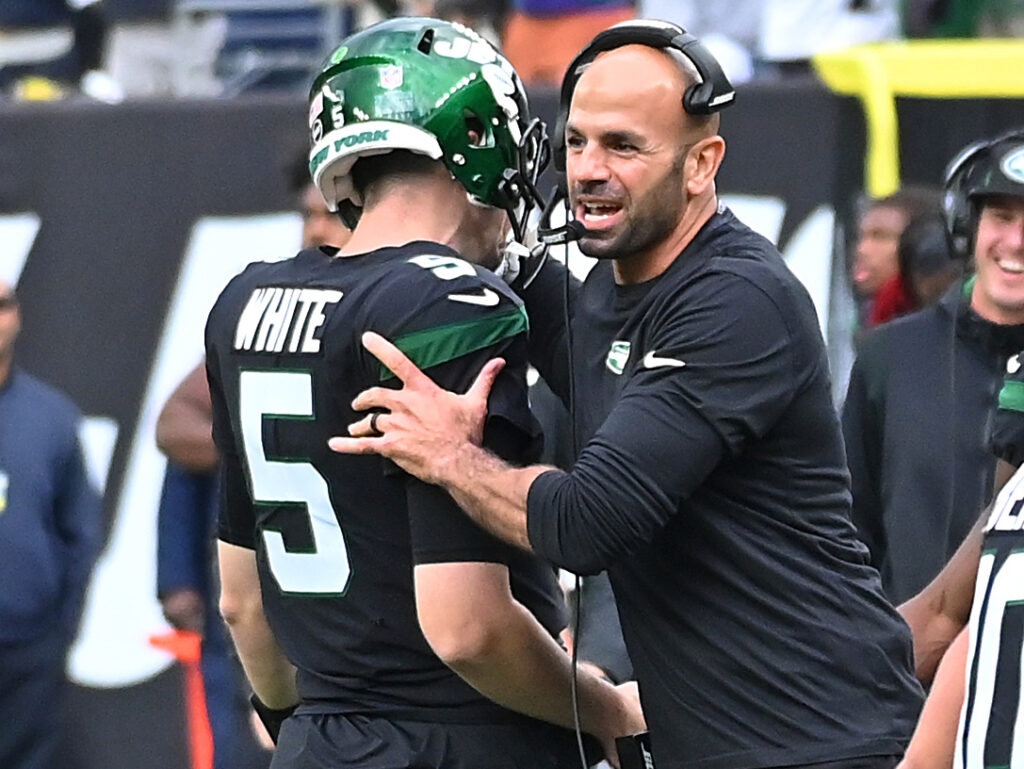 By SCOTT MANDEL
After yesterday's phenomenonal performance by the Jets fill-in quarterback, one Mike White, we wonder if the J-E-T-S are thinking about putting their prized number one draft pick, Zach Wilson, who was gifted the starting job immediately after signing his rookie contract, on the trade market to try to pick up a few chips for upcoming drafts? After all, White, the 26-year old journeyman has become a national story since yesterday, when he replaced the injured Wilson in the first start of his three-year career, leading the lowly Jets to a stunning come-from-behind upset win over the Cincinnati Bengals.
If MIke White is the real deal, in effect, THE ANSWER for the Jets at the quarterback position, it opens up a plethora of opportunities for Joe Douglas, the Jets general manager. But we are getting far in front of ourselves.
We are cognizant of the potential, if not the likelihood White may be a one hit wonder, despite his hellacious debut in the NFL against a Bengal team many see as a contender to get to the AFC championship game. After being a three-year benchwarmer, White completed 37 of 45 passes, throwing for 405 yards and three touchdowns in the thrilling 34-31 win, the kind of victory that has been few and far between for the Jets for many decades.
But, this kid has skills. He can throw the ball accurately and with velocity. Given enough time in the pocket, this 6'5″, 220 pound kid seems to have the poise, the boys (guys know what that means), the vision to check down, the foot work, the arm strength, the quick release, and the accuracy to complete NFL-type passes. And that is something Jets fans have not seen consistently from their quarterbacks since Joe Namath, in 1968. And, that includes Zach Wilson, who has not unexpectedly been an erratic performer, at best, in his rookie season.
Yesterday, Mike White was able to make average or unproven receivers, both downfield and those coming out of the backfield, look better than their individual talents. He also made a disheveled, less than talented offensive line look much better than they have played this entire season. A quick release will do that for you.
Some quarterbacks raise the level of play for their team through inspiration and talent while other quarterbacks need to be surrounded by great players to play well (like Eli Manning, for instance). Mike White made the 1-5 Jets look like a confident, physical football team for the first time this season. That's a fact.
Will White be a one-hit wonder? Could be. He played at South Florida University before transferring to Western Kentucky, being drafted in the fifth round in 2018 by the Cowboys. Dallas cut him despite needing a backup quarterback and the Jets cut him this year, bringing him back when they needed a third practice quarterback so the legend of Mike White may just be a temporary interregnum in another depressing Jets season in search of a good story.
On the other hand, the legendary Hall of Famer, John Unitas was once cut by the Steelers before breaking every passing record in the sport as a Baltimore Colt. And, Kurt Warner was cut a few times before he became a Hall of Famer, beginning in his late 20s. Sometimes, the light just clicks on for some people later in life than it does for others. And, sometimes, it's a bummer when Cinderella, with her back story of the glass slippers and the horse-drawn carriage turning into a pumpkin when the clock strikes 12, has her one shining moment before reality kicks in.
Either way, it's a great story and this moment has captivated New Yorkers as well as football fans all over the country. It has also captured the fancy of Jets head coach, Robert Saleh, who said yesterday, in his post-game comments when asked if Zach Wilson will retain the starting job when he is healthy to play, "anything's possible" about White getting an extended run as the starter.
Now it's on to game two, in three short days, for the Mike White saga. It says here, Mike White will get to wear his shiny glass slippers/cleats for a third consecutive game, after this Thursday, when Wilson, the golden boy #1 draft choice, is expected to return from his knee injury.
We will find out, week by week, whether Mike White is THE ANSWER or, just another passing fancy.