Mets Needed Thor to Come Up Big, Now Tonight is a Must-Win Game
Syndergaard threw worst game of his career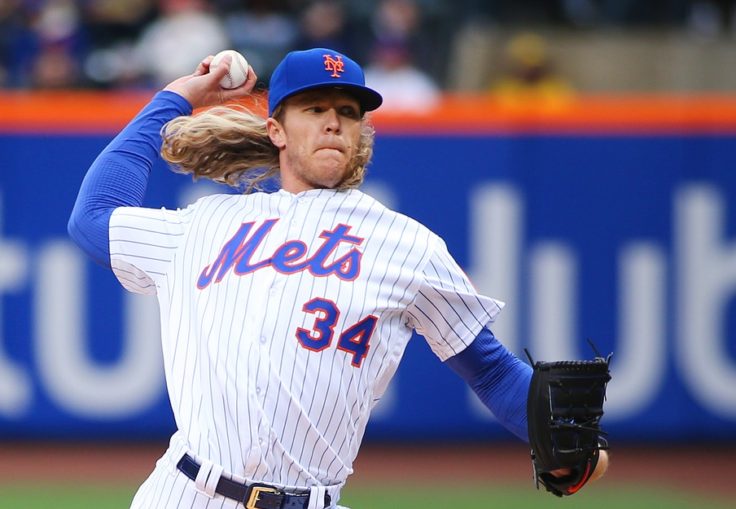 By Scott Mandel – SportsReporters.com
Mets' Noah Syndergaard on nightmarish start: 'When you get your s— kicked in like that, it gives you a different perspective'
The Mets needed Noah Syndergaard at his best on Wednesday in a crucial game against the Cubs, but the right-hander's outing was nothing but disastrous.
Syndergaard, who had dazzled in his eight second half starts, was the victim of some poor defense and poor luck in the Cubs' six-run first, but he also left hittable pitches in the zone.
Jason Heyward went down swinging to start the inning, but things quickly went downhill from there. After Nicholas Castellanos was hit by a pitch and Kris Bryantsingled, Javier Baez grounded a slow-roller to short that Amed Rosario underhanded into shallow center field, allowing the first run to score.
Then, after a Kyle Schwarber RBI double, Addison Russell blooped a perfectly placed single into right, scoring two more. Ian Happ then provided the final two runs of the inning with an opposite-field two run homer.
Things didn't get any better for Syndergaard in the second. Bryant lifted what should have been an easy out to shallow left, but miscommunication between Rosario and J.D. Davis allowed the ball to drop in for a double.
Two batters later, Schwarber slammed the Cubs' second home run of the night, extending the Cubs' lead to 8-1.
Through the first two innings, Syndergaard allowed eight runs (seven earned), on seven hits. He walked three and struck out two.
"They capitalized on every mistake that I made, and it just seemed like tonight when it rains it pours," Syndergaard said after the game. "When you get your sh-t kicked in like that, it gives you a different perspective on things. Definitely a terrible feeling. I'm disappointed in myself. I had the opportunity to go out there and do something big tonight, and I let the team down."
Mickey Callaway stuck with Syndergaard in the third, but with two away, Castellanos blasted the Cubs' third home run, ballooning the lead to 10-1. The Mets did battle back to make things interesting, but they ultimately lost the game 10-7, dropping further back in the Wild Card race.
"Obviously a few plays weren't made," said Callaway afterwards. "He battled, left some pitches middle, they made him pay. They didn't miss the ones that were big mistakes. Some of the credit has to go to their offense. It's still hard to hit even when a Noah Syndergaard makes mistakes. But he just couldn't get into rhythm. Off night for him. He's been pitching so well, and we know that our rotation is one of our strengths. Just an off night for one of our starters."
Syndergaard's night ended after three innings, allowing a career-worst 10 runs (nine earned) on nine hits. It was the first time in his career that he allowed three home runs in a start.