by Scott Mandel
Go ahead, Mets fans. You can dream a little more after tonight's gem thrown by current number four pitcher in the Mets rotation, Steven Matz, as he pitched the first complete game shutout of his career, beating the Pirates on a masterful five-hitter, 3-0.
Matz may soon become the number two starter, behind Jacob deGrom if the Mets follow through on the rumors flying around this team they will soon be trading Noah Syndergaard and Zack Wheeler by Wednesday's trade deadline.
But, keep dreaming. Your Mets have now won nine of their last 13 games and four in a row. Their record is 49-55, just six games below .500, aka, mediocrity. They have passed two teams in the wild card race, with just four teams ahead of them. They are six games behind that last wild card slot and, as you may recall, that is not a number that cannot be overcome.
The Mets are viewed, especially by some in the media, as sellers instead of buyers as the trade deadline approaches but, the achilles heel of this team, its pitching, has righted itself since the All-Star break. In the 13 games since then, the Mets own the best E.R.A. in baseball, at 2.62. The bullpen, since 82-year old Phil Regan became the new pitching coach, has become nearly lockdown, with the exception of Jeurys Familia, who remains an important work in progress. All this has led to a 9-4 record, since the mid-summer break.
Mets manager, Mickey Callaway, doesn't think they're out of the race to the post-season yet, nor should he.
"I think we can get on a run, here," said Callaway. "We're pitching and we're hitting and we are playing good baseball. Let's just keep playing and see where it ends up. I like this team when it's playing on all cylinders, as we imagined it in spring training."
Matz pitched the most efficient game of his career, staying away from the full counts that have plagued him since he reached the majors. He finished off the Pirates in just 99 pitches.
"He was executing all four of his pitches," Callaway said. "I thought his cutter/slider was the best I've ever seen. He was just tremendous in every way."
After the game, Matz looked more relieved than usual.
"This is what I try to do every game," Matz said of his first complete-game shutout as a pro, "so it was good to finally do it."
Matz was backed by home runs from Michael Conforto, his 19th, and J.D. Davis, starting in left field with Dom Smith placed on the injured list with a foot issue.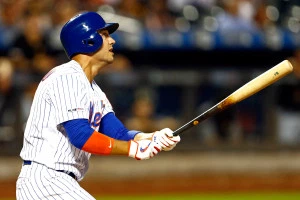 Matz also introduced a new pitch in his arsenal – a slow curve ball. His velocity on the pitch ranged from 78 to 82, and kept Pirates hitters off-balance. Perhaps, another influence of Phil Regan, or even Jason Vargas, today's pitcher, who has mastered the technique of slow curve balls.
If Matz does move up to the number two slot in the Mets rotation, it will mean two things. The Mets have given up on the season, having traded their present pitching assets for futures. Or, that Matz has finally put together all of his potential and is realizing his talent.
Does it all change the front office's thoughts about trades? That remains to be seen but, with this team finally playing in-synch with its talent, keep dreaming, Mets fans.