Mets' Catching Duo Turns Into Johnny Bench to Defeat Tigers in Extra Innings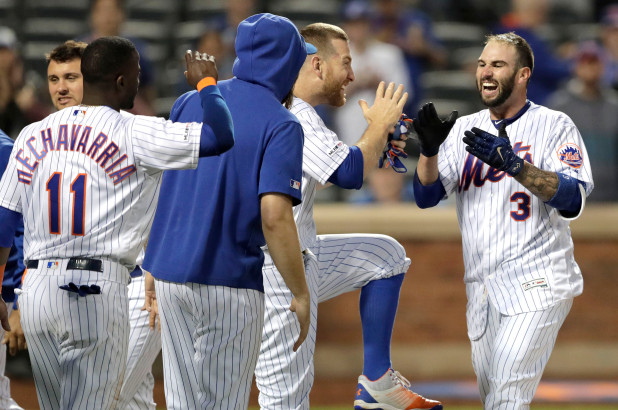 by Scott Mandel
So this is what the Big Red Machine, the legendary Cincinnati Reds of the 1970s, must have experienced with some frequency. The guy behind the plate hitting clutch home runs for a dozen or so years to win games for those Reds of Joe Morgan, Pete Rose, Tony Perez, George Foster, and, of course, the legendary Johnny Bench, behind the plate.
Tonight, the guys the Mets employ to catch pitches from their pitchers, also provided the Mets with all the offense they needed to defeat the Detroit Tigers, 6-5, in 11 innings in front of a near-sellout crowd at Citi Field.
Tomas Nido, the defensive-minded backup catcher and owner of a .172 batting average to go along with one home run so far, was the latest to send the injury-riddled Mets to a victory in their final at-bat, drilling a solo homer to right-center field in a 5-4, 13-inning victory over the Tigers at Citi Field.
"Amazing. First walk-off ever — hit or home run. So that was an unbelievable feeling," said Nido, who was doused not only with Gatorade but also had a large bag of popcorn and bucket full of bubble gum dumped on him as well. "I had one in high school, but this topped it."
Nido's third career homer was by far the biggest hit of his short Mets career. Leading off the 13th, he drilled a 2-0 Buck Farmer fastball over the wall, clinching the Mets' fifth win in six games. It was also the team's fourth win in their final at-bat in their past five games, and in each of those victories the game-deciding hit was provided by an unlikely source.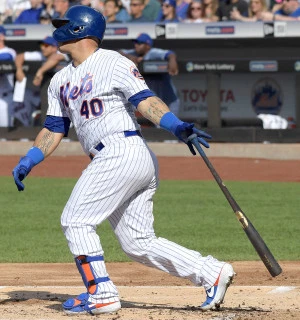 "The crazy thing: That was probably the last thing I was thinking, hitting a home run there," Nido said.
Before Nido's heroics, the Mets' starting catcher, Wilson Ramos, showed why the Mets gave up on Travis d'Arnaud early into this season. Ramos, who had been slumping of late, slammed two home runs, one to left center field and the other to the opposite field in right, driving in all the Mets four runs. That production alone was enough for the Mets (25-26) to hold a 4-3 lead going into the eighth.
Until Nido snapped the tie with his big blast, giving Mets catchers today a combined 4 for 6, three homers, five RBI's, And. to add to this positively Bench-ian game from the Mets catching brigade, Ramos picked off Gordon Beckham at first base with a bullet throw the old Reds catcher would have been proud of.
Going into today's afternoon contest against the rebuilding, Triple-A talent-level Tigers, Mets manager Mickey Callaway knew his bullpen would be short because of all the arms he had to use last night in a 9-8 loss to these same lowly Tigers.
Callaway was hoping to get five innings from today's starter Jason Vargas, always a shaky proposition most people wouldn't bet the farm on. But, once again, Vargas, who doesn't top 86 mph with his fastball, was able to use his crafty, veteran control to keep the young Tigers off-balance two times through their lineup. Vargas left with a 2-1 lead, having completed five full innings.