By Scott Mandel
I have a short but sweet message for baseball's negotiators.
Go fuck yourselves.
Your combination of incompetence and planned delay of the 2022 baseball season is preventing me from watching Max Scherzer pitch for his latest team, the Mets.
I want to see how the 21-year old outfielder, Jared Kelenic, purportedly the next Mike Trout, does in year two with Seattle.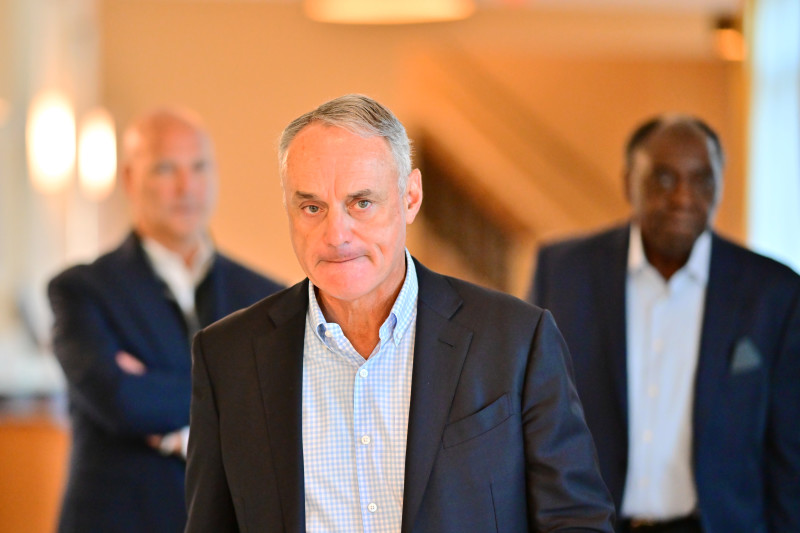 I'm curious whether the Giants can repeat their unbelievable 2021 season.
'I need to see if Mike Trout will get injured again, railroading a Hall of Fame career, or will Trout get back after another injury-dominated 2021 season to play the game as if he was born to play baseball.
I don't know where free agent shortstop Carlos Correa will end up but I'd like to find out.
I can't wait to see If there is a courageous manager/pitching coach who will train his starters to go 6 2/3, every night. C'mon Buck, I know that's you.
I want baseball to dispense with the stupid analytics-based shift and let legitimate base hits go through to the outfield.
I'm tired of the best players in the game hitting .240 with 38 home runs and 190 strikeouts in 400 at bats.
I want to see if corner outfield arms become legitimate throwing arms again because they've sucked for years. It's embarrassing to watch major league left fielders, playing shallow, barely reach home plate trying to nail the runner tagging up at third or scoring from second base on a bloop single.
I want to see speed and small ball come back to the game. You've got kids out there who can hit the ball 500 miles and steal 40 bases. Let them steal bases and go 1st to 3rd.
We liked watching Rickey Henderson play baseball. There's a couple a dozen bigger, faster, stronger Rickey's out there, now, with that skill-set. Let the talent flow. This is not a game of specialization.
And, most important of all, stop making the game so mechanical and unattractive to young fans, I mean, very young fans, like I was when I first started watching baseball at age 5 with my old man. Make 5-year olds love the game, instead of their video games. Make it fun for them to get outside with their little baseball gloves and wiffle ball bats and learn about baseball.
Otherwise, you may think you are negotiating to save your own bank account but you are actually ruining the game's popularity with the very folks who pay your exorbitant salaries. The FANS. And their PARENTS. Talk about killing the goose that lays the golden eggs. Short-term thinking.
So baseball negotiators, if this upcoming 2022 season doesn't give me 162 games, go fuck yourselves. I mean it, go fuck yourselves and while you're at it, fire that snarky asshole of a commissioner with the horrible golf swing.
Sincerely,
Your Struggling to Remain a Fan but Still Passionate About It