The Clock May be Ticking for Online Sports Publication, The Athletic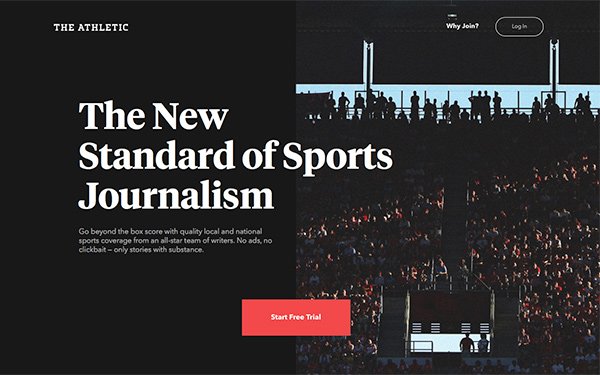 by Scott Mandel
The Athletic, a subscription-based sports website, was introduced in 2016 with an interesting business model – an ad-free environment providing national and local coverage in 47 North American cities as well as the United Kingdom.
It's ambitious plan included the recruiting of some of the best-known, highest-paid sports journalists in the country, those who already had large followings on either a national or local level. The Athletic reportedly paid exorbitantly high salaries to these reporters, many of whom had already been laid off by their local newspapers as part of an industry-wide crash that has been evolving over the past two decades, as the internet became the main source of information for consumers of news and sports.
The Athletic's roll-out, beginning in 2016, has been impressive. Starting with one market, Chicago, in which all of that city's sports teams were thoroughly covered, it has rolled into every major market in the United States. With nationally-known reporters such as Ken Rosenthal, Jason Stark, and Peter Gammons on the baseball beat; David Aldridge, Shams Charania, and Zach Harper on the NBA, Michael Lombardi on the NFL, and Steward Mandel on NCAA sports, along with top local writers, The Athletic has certainly gone for quality journalism. And, it has raised over $139 million dollars from a variety of investors over the past four years. All very impressive.
But, there are possible chinks in the armor beginning to appear for the four-year old publication. The Athletic is now offering deeply discounted subscriptions at the ridiculously low price of $1 per month. When The Athletic began publishing, the subscription rate was $9.99 per month, more commensurate with other online publications with well-known brand names like Sports Illustrated, Fortune, New York Times, and others.
As their advertisement on social media like Facebook, below, indicates, they are changing their subscription pricing, drastically.
Get every sports story that matters. Breaking news. In-depth analysis. Ad-free.Limited Time Offer USD 🇺🇸 CAD 🇨🇦 $1/month, $7.99/year. Billed Monthly. PROCEED TO CHECKOUT. View all plans
"The Athletic has become a force in sports journalism"
Either The Athletic is trying to beef up its overall readership numbers or possibly, gain more casual sports fans who don't want to invest deeply to satisfy their sports mojo. Or, The Athletic is in deep trouble with its main source of revenue, its subscription base, through faltering renewals of existing subscriptions or an inability to attract new subscribers.
Of course, one cannot underestimate the role of a the global pandemic on the sports business, which includes publications which cover those games and teams. But, as we have seen over the past couple of decades, publications such as The Sporting News, Sport Magazine, and a painfully thinning Sports Illustrated are disappearing from the newsstands and mailboxes of sports fans.
The owners of The Athletic, now essentially a consortium of investors, are probably hoping for a million or more fresh one dollar subscriptions, as well, for the revenue jolt a million bucks would provide them. The clock is ticking on The National, which was a very good idea in 2016.