Giants Fire Shurmur, Retain Gettleman. Can Belichick be in the Mix?
The purge of coaches has begun on Black Monday, always a "fun" day in the NFL. The Redskins have their sites set on Ron Rivera. The Browns have fired Freddy Kitchens. The Giants? Maybe Belichick?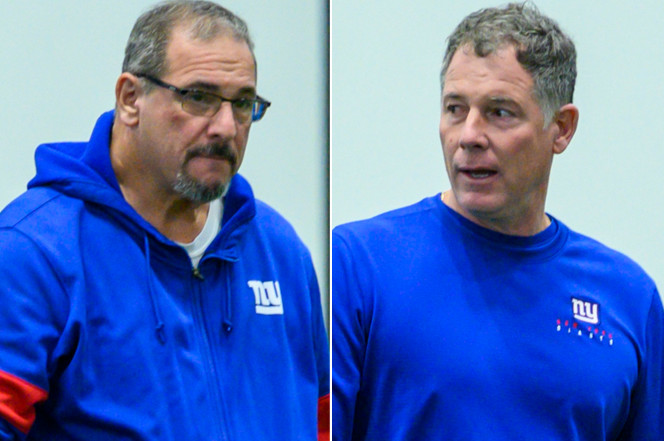 by Scott Mandel
EAST RUTHERFORD, N.J. – The Giants today announced they have dismissed head coach Pat Shurmur after two seasons of a five-year contract.
Mark this down as another bad deal for the Giants.
The team also confirmed that general manager Dave Gettleman will remain in his position.
Mark that down as a win for John Mara, whose loyalty to Giants personnel is legendary, and a loss for co-owner, Steve Tisch, who reportedly wanted to sweep out the entire hierarchy of football decision-makers.
Looming over the Giants, a franchise that many feel is developing a young core of of talent along with a franchise quarterback in rookie Daniel Jones, could be the imposing figure of the winningest coach in NFL history, Bill Belichick, currently trying to get to his tenth Super Bowl in the past 15 years with the New England Patriots.
Since becoming the Patriots head coach in 2000, Belichick has led them to 16 AFC East division titles, 13 appearances in the AFC Championship Game, and nine Super Bowl appearances, with a record six wins. Belichick has participated in 11 Super Bowls, including two as Bill Parcells' defensive coordinator in 1986 and 1991, has won eight Super Bowl championships in total from his combined time as an assistant and head coach. And, he's never gotten rid of his soft spot for the Giants.
No one outside Foxborough knows for sure what his contract status is and there is speculation he could be available in 2020. Whenever given the chance, Belichick waxes poetic about the start of his NFL coaching career with the Giants. It is very likely that the Giants are the only team he would leave New England to take over. He could bring his offensive coordinator, Josh McDaniels, with him — with McDaniels taking on the challenge of continuing the development of Daniel Jones. This would make sense if the rumblings that Tom Brady's time with the Patriots is nearing an end.
The Giants were 9-23 in 2018-19 and have not won more than five games in any of the last three seasons.
"Steve and I have had many extensive discussions about the state of the Giants," Mara said. "This morning, we made the very difficult decision that it would be in the best interest of the franchise that we relieve Pat of his duties. The last three seasons have been extremely disappointing for the organization and our fans. Pat has been a successful and highly-respected NFL coach for 21 years and he is not solely responsible for our record. But we came to the conclusion it is best to have a fresh start with the coaching staff. We very much appreciate how much Pat has done for this franchise. He is a man of character and integrity and the team has conducted itself with pride and professionalism.
"As owners, we take full responsibility for our recent poor record. It is our goal to consistently deliver high-quality football and we will do everything in our power to see that there is a rapid and substantial turnaround."
Added Tisch, "The last two seasons have been a continuation of what has been a very difficult and disappointing period for our franchise. It is never easy to part with someone the caliber of Pat. But John and I came to the conclusion that we need a new voice in the coach's office and made the decision to bring in new leadership.
"We understand how frustrated our fans are. They expect more from us and we expect more from ourselves. Our focus now is on developing and improving our football team so that our fans can enjoy the winning team they expect and deserve."
Mara and Tisch believe that Gettleman is the best general manager for the team. His first draft class included running back Barkley, the No. 2 overall selection who set numerous records in his debut season and was selected the NFL Offensive Rookie of the Year. In addition, his 2018 draft choices included Will Hernandez, who has started all 32 games in his two seasons at left guard, linebacker Lorenzo Carter and defensive tackle B.J. Hill.
This year, the Giants drafted 10 players, including Jones, who started 12 games and established numerous franchise rookie records, including 24 touchdown passes. Jones is expected to be a fixture at the game's most important position for many years.
The 2019 draft class also included Darius Slayton, a fifth-round selection whose eight touchdown receptions tied him for first among NFL rookie wideouts; Dexter Lawrence, who started all 16 games; linebackers Oshane Ximines and Ryan Connelly; and defensive backs DeAndre Baker, Julian Love and Corey Ballentine.
"Dave Gettleman is our general manager in 2020 and hopefully for many years after that," Mara said. "We believe he is the right person to lead us going forward. Dave has a long record of success. We think he's capable of putting a great team together and he's going to get that opportunity. To the extent we need to make changes in personnel or the way we do things, we're going to discuss that."
"Although our record didn't reflect it this season, we believe Dave has assembled a strong nucleus of young players that will help us compete for championships in the future," Tisch said.
Shurmur was named the 18th head coach in Giants history on Jan. 22, 2018.
The Giants finished their first season under Shurmur with a 5-11 record, a two-game improvement over their 2017 record.
Twelve of the Giants' 16 games that season were decided by seven or fewer points, tying them with Philadelphia and Pittsburgh for the most in the NFL. The Giants were 4-8 in games decided by seven or fewer points. The eight losses in such games were an NFL high. The Giants held a fourth-quarter lead in four of those games.
The Giants began the 2019 season 2-2, with the two victories coming in Jones' initial starts after Shurmur decided the rookie would replace 16-year veteran Eli Manning as the team's starting quarterback. But after defeating Washington on Sept. 29, the Giants tied a franchise record by losing nine consecutive games and falling to 2-11. They did not win again until Dec. 15, when they beat the Miami Dolphins. That was the second of two games in which Manning substituted for Jones, who was sidelined by a sprained ankle.
Mara and Tisch said they will immediately begin their search for a new coach. They did not identify any candidates.
"The search will be extensive," Mara said. "We understand this a very big decision for our franchise. We've had three losing years in a row and, quite frankly, we have lost some standing as an organization. When you have three losing years in a row as we have, you face a lot of criticism. A lot of it is deserved. It's up to us now to turn that around and get back to where I think we should be."