WFAN Sports Radio in New York Fires Afternoon Host, Chris Carlin. Was Mike Francesa Behind It?
Did Francesa help WFAN management push Chris Carlin out?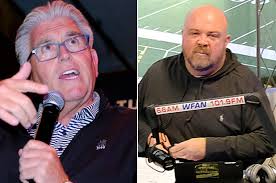 by Scott Mandel, SportsReporters.com
Chris Carlin, a long-time producer and most recently, a co-host of the CMB afternoon show at WFAN Sports radio in New York City, has suddenly left the station. There are unconfirmed reports he was informed his expiring contract, which runs through December, would not be renewed.
His partners, Maggie Gray and Bart Scott (the M and the B in CMB) are being retained and the show re-named, Maggie and Bart.
There may be a back story here that won't be coming into the light of day for awhile but there has been speculation that Mike Francesa, the 65-year old afternoon drive time host at the station since 1987, may have been behind Carlin's firing.
Carlin began his career at the FAN as the producer for the legendary Mike and the Mad Dog show, in which Francesa and his on-air partner, Chris Russo, essentially invented the daily sports talk format which has been copied all over the country.
I've known Carlin for 17 years, since we were on the football Giants beat, sitting shoulder to shoulder in the Giants Stadium press room. He is a salt of the earth guy who, even as he stepped away, kept his comments brief and above board.
Carlin tweeted this on Wednesday, and has not had further comment, at this point: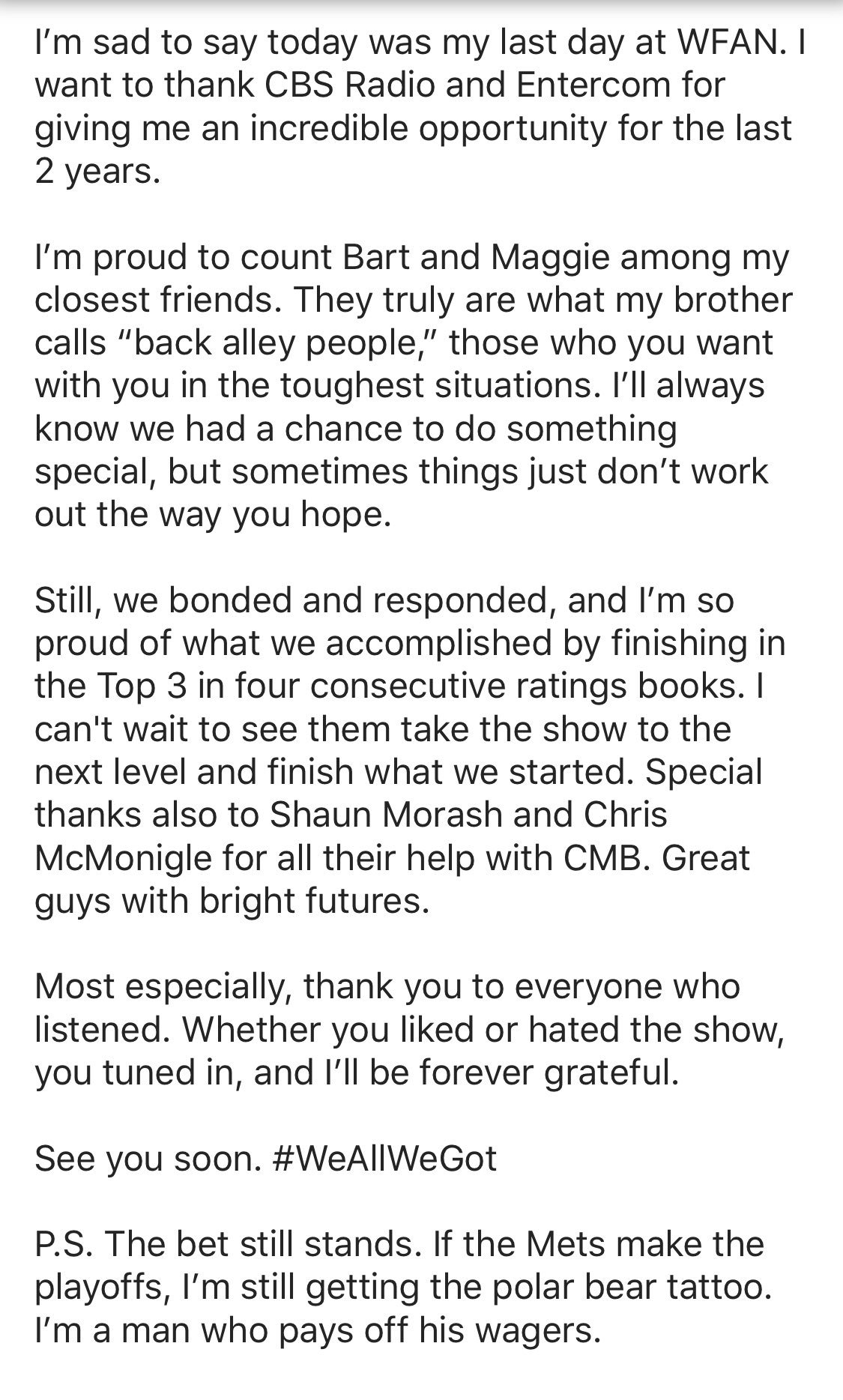 Carlin declined to comment further when contacted by Newsday and also declined to comment on the timing of the move and whether it was his decision for him to leave immediately or the station's.
His contract was due to expire at the end of the year, and he already had been told that his option under the existing contract terms would not be picked up. But until this week it appeared the station might let things ride until December.
Radio stations often are reluctant to allow lame ducks to remain on the air, so WFAN's parent company, Entercom, may have decided to let Carlin go sooner rather than later. Also, Thursday is the start of the autumn ratings book
"We can confirm that Chris Carlin is no longer with WFAN," an Entercom spokeswoman said. "We appreciate his many contributions and wish him all the best."