Is Eli Manning a Hall of Famer?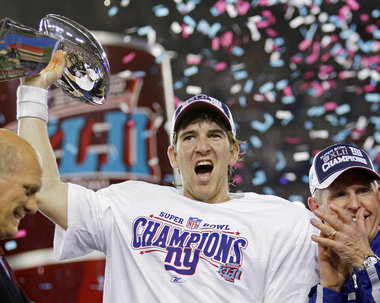 by Scott Mandel, SportsReporters.com
I've gotten backlash for this many times but, media guys who have never strapped on a helmet or pads should qualify their opinions about football with, "I have never, ever tackled or blocked anyone my entire life and this opinion is that of a pure fan. Call me Benigno."
To say Eli Manning's record of 116-116 does not qualify him for the NFL Hall of Fame shows a fair measure of ignorance, even as a "fan" who purports to be an "expert." Whether Manning is a Hall of Famer is certainly debatable, but, do not turn his TEAM'S won-loss record into a rationale for or against his inclusion in the Canton shrine.
You see, if you ever played pee wee ball, you would know the quarterback cannot succeed without the 10 other guys on the field doing their jobs (as Belichick has preached for 40 years). Neither could the running backs, wide receivers, or offensive linemen. And, if the coach is a dummy, or, the team has changed coaches every couple of years, the continuity and consistency of an offensive unit disappears.
Football isn't an individual sport like baseball, or basketball, or, even hockey, where one player's individual skills can dominate a game, or, an era. It's the ultimate in inter-dependence on your teammates for your own success.
Manning is currently seventh all-time in passing yards, eighth all-time in touchdown passes and sixth in most completed passes. He has played in 234 games.
For comparison's sake, his brother, Peyton played in 266, Drew Brees in 267, Brett Favre in 303, Dan Marino in 242,
John Elway, who had a rough start to his NFL career after a legendary three years at Stanford, became a sure-fire Hall of Famer who played in the same number of games Eli has. Eli has almost 500 more completions, completed 61% of his passes vs. Elway's 57%, and has thrown 62 more touchdown passes than the great Elway in the same amount of games. The one stat which stands out as one they have in common is, they are two of only five quarterbacks in NFL history whose team won two Super Bowls and, were the MVPs of each Super Bowl game they won.
Manning was never, in my view, better than a top five or six quarterback within his own era, but being behind Brees, Peyton, Aaron Rogers, Matt Ryan, Rivers, and Rothlisberger) does not disqualify him from Canton. Those six guys, all arguably better than him, will be joining Manning in the Hall of Fame, someday.