Presence and Karma of Miracle Mets of 1969, Honored at Citi Field Couldn't Save Current Mets Today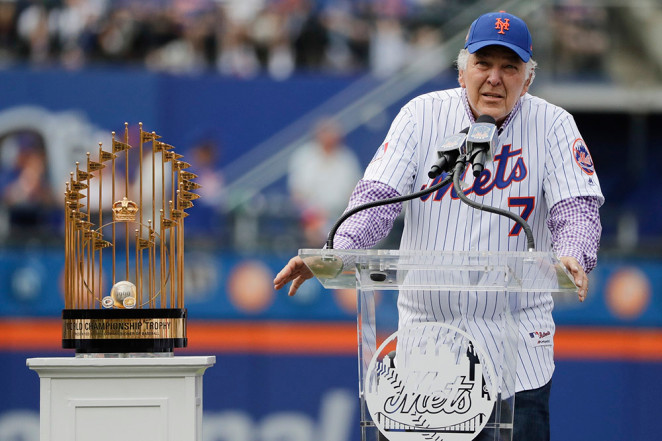 by Scott Mandel
Before today's game, during a ceremony at Citi Field honoring the 50th anniversary of the 1969 Miracle Mets world championship, one of the surviving members of that team and the only living original Met from that first season in 1962, Ed Kranepool, got up to the podium to say a few words.
Among his thoughts, Kranepool turned to the Mets dugout to address the current team.
"You're only half way through the season. Whatever your struggles have been to this point, you can still pull off a miracle and win this thing."
Once again, the Mets, particularly its bullpen, didn't take Kranepool's words to heart, as they blew another late-game lead to the first place Atlanta Braves, 5-4, dropping them 13 full games behind the Braves in the East Division.
Did anyone say, "Let's back up the truck and become sellers?"
After the Mets rallied from a three-run deficit — and took the lead thanks to a hit by Robinson Cano — their disastrous bullpen cost them again as it has been costing them this entire season.
Seth Lugo was the main culprit. The right-hander gave up back-to-back homers with one-out in the eighth to extend their season-high losing streak to seven games, as calls for the firing of manager Mickey Callaway could be heard from the crowd of 40,809 at Citi Field — the largest since Opening Day.
The Mets had a chance to tie the game again in the bottom of the ninth but fell short.
Pete Alonso and J.D. Davis reached to start the inning before Michael Conforto was called out on strikes. Todd Frazier followed with a slow grounder to third, as both runners moved up for Dom Smith, who struck out to end it.
But they had to rely on their much-maligned pen, which was forced into action after the game was delayed 70 minutes following the second inning because of heavy rain, and Steven Matz's night was over.
It worked out at first, as Chris Mazza — in his MLB debut — pitched four solid innings in relief and Lugo tossed a scoreless seventh before Nick Markakis and Austin Riley took him deep to swing the game.
"He was mowing them down and then, three pitches later, we're down in the game and he's given up two homers,'' Callaway said of Lugo. "He looked like his normal self tonight. It's kind of unexplainable.''
Unexplainable has become the watch word of this Mets season, which, despite its bright spots in players like Pete Alonso, who hit his 28th home run today, Dom Smith, who also hit a 435 foot bomb to left center field and is batting .330, and Jeff McNeil, who is in the race for the National League batting title, it has been unexplainable how the supposed strength of this team, it's pitching staff, has simply collapsed to the point where Mets G.M.. Brodie Van Wagenen fired the respected pitching coach, Dave Eiland, replacing him with the 82-year old Phil Regan, who pitched with Sandy Koufax and the Dodgers 54 years ago.
Unexplainable.
When Van Wagenen fires Callaway, as seems inevitable at season's end if not sooner, that too, will be unexplainable.