Mets Win Despite Another Bullpen Implosion as Jeff McNeil Pegs Out Cardinals to End Game
Mets bullpen almost blew another one as McNeil saves their bacon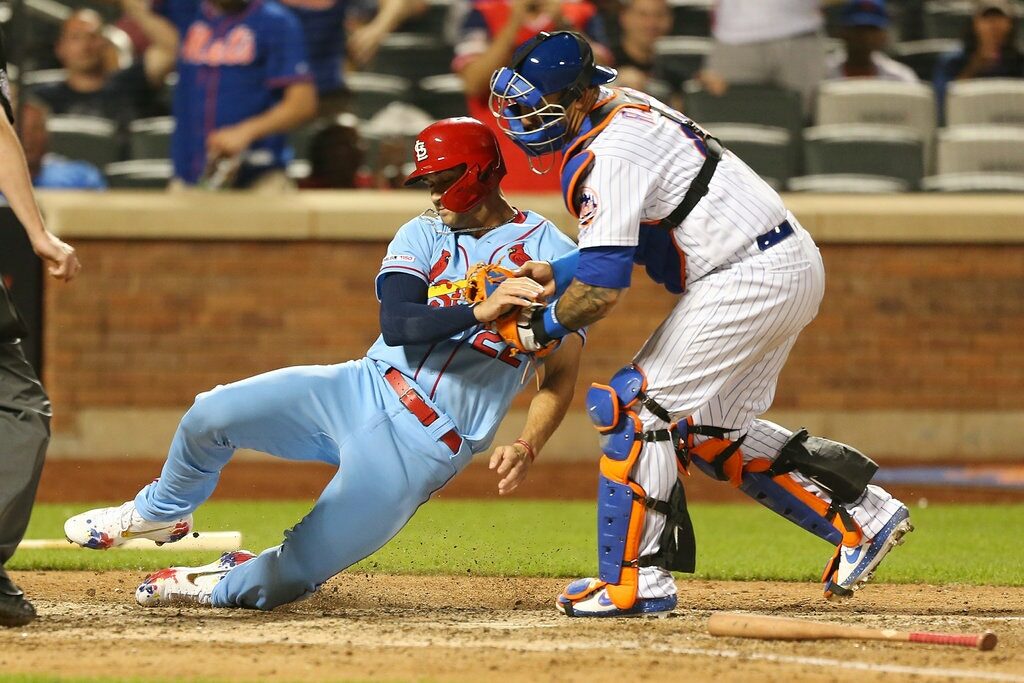 by Scott Mandel
You have to give New York Mets manager Mickey Callaway, a ton of credit. He understands his public role as chief cheerleader for his players, no matter how much his bullpen may blow late game leads or his fielders continue their alarming level of defensive miscues.
The Mets won last night's game over the Cardinals, 8-7. That's the good news. The real news? They were leading in the seventh inning, 8-3, with Noah Syndergaard on the mound. He wasn't particularly sharp all night but he had enough moxie and stuff to get outs when he had to.
As has been Callaway's wont over the past month or so, with a faltering bullpen and a starting five that no longer needs to be babied with limited pitch counts, he sent Syndergaard out to pitch the seventh inning, with the starter having thrown 102 pitches through six.
Syndergaard (5-4) reached for his right hamstring after throwing one pitch. Callaway and an athletic trainer came out to check on the right-hander, who walked off the field with a bit of a limp.
"It was on that one pitch," Callaway said, adding Syndergaard will be re-evaluated Sunday morning. "That deep in the game, if he feels anything, you get him out with a five-run lead."
But, these are the Mets, who either grossly overrated its bullpen coming into this season or, those pitchers out there have all gone off the rails at the same time. The bullpen, coming into Saturday, held a 6.69 ERA in the last 30 days, 8.33 in the past two weeks. You can't get much worse than that, especially when that unit has blown 16 saves this season, by far, the worst in the game.
When Syndergaard walked off the mound with a five-run lead, one sensed five runs wasn't nearly enough of a lead to secure a win for the Mets against the scrappy, base-stealing Cardinals, who stole six bases against Mets pitching last night.
Enter Robert Gsellman, one of the Jekyll and Hydes of the Mets bullpen. Gsellman throws 95-97 but unfortunately doesn't always know where the pitch is going. Often times, it ends up straight over the plate where major league hitters can tattoo it. Predictably, like clockwork, St. Louis scored three times with Gsellman being Gsellman, before the inning ended on a line-drive double play.
With a beleaguered bullpen having so much trouble closing games for the New York Mets lately, it was left to second baseman Jeff McNeil to take it upon himself to save this one, and save Edwin Diaz' bacon at the same time.
Seth Lugo came on in the eighth inning, loading the bases but somehow, he struck out three in the inning, finally fanning Matt Carpenter with the bases loaded to end the inning.
Then, it was Diaz time. The Mets biggest acquisition of the off-season, Diaz appears to be fragile, an attribute for a closer that doesn't lead to happy endings. The 24-year old gave up a two-out RBI single to Yadier Molina in the ninth, and Kolten Wong lofted a pop fly toward the right field line.
McNeil sprinted a long way in pursuit and converged with outfielder Michael Conforto, yet neither could make the catch. Conforto tumbled to the turf, but McNeil stayed on his feet and quickly grabbed the ball as it trickled away. He zipped a one-hop throw right to catcher Wilson Ramos that easily nailed Jack Flaherty, the Cardinals pitcher who was pinch-running for the slow-footed Molina.
"Mike goes in there sliding, I go in there leaping. I think once the ball hit the ground, I knew they were going to send him," McNeil said. "Pick it up and I kind of got lucky; I was behind the ball, so I got some oomph on the throw."
Flaherty looked back at the ball while running and stumbled coming around third.
"You see Flaherty chugging the bases and I thought he was going to score," Cards' starter Michael Wacha said. "The guy made a heck of a throw from right field — right on the money. So I mean, you've just got to tip your cap at some point and go get `em tomorrow. But it was a crazy ending, that's for sure."
A fired-up McNeil pumped his right arm and the Mets celebrated after a narrow escape. Diaz got his 15th save in 18 attempts.
"That was just a whirlwind of emotions," rookie slugger Pete Alonso said.
Alonso smashed a mammoth three-run homer off the facing of the third deck in a five-run first inning against Michael Wacha (4-3). J.D. Davis homered and had four hits, finishing a triple short of the cycle. And this time, New York's relievers finally held on — barely — after blowing late leads in the first two games of the series.
"Third time's a charm and there was never a doubt," Callaway said, chuckling. "A win's a win and it was a great play by Jeff. Heads-up play to get it in and get it home. Great throw."
"It was pretty nerve-wracking," Davis said.
Added Callaway: "It's not easy for us right now. But tonight is a step in the right direction, no matter how it happened. We held the lead and hopefully we can build off of that."
Mickey can't say this, as chief of cheerleading but, until the Mets get the collective fragile psyches of its bullpen into a healthier place, there won't be enough runs in a game to build off of.