By Scott Mandel
Say hello to the new heavyweight champion of the world, a man from Mexico named Andy Ruiz, Jr.
Ruiz Jr. did what many believed was the impossible by stopping Anthony Joshua in Round 7 on Saturday to capture the WBA, WBO and IBF world titles in one of the biggest upsets in boxing history in New York's Madison Square Garden.
No one is really sure if this shocker occurred because of Ruiz' great skills in the boxing ring in beating the 6'5″, 240 pound chiseled slab of granite in Joshua. Or, if the champion, Joshua, a Brit who apparently doesn't enjoy one of the prerequisites of his sport, getting repeatedly punched in the head, had just had enough and decided to hit the mat.
A rumor was being floated around the Garden that Joshua, new to New York City and very much a bon vivant, man-about-town who enjoys his celebrity, wanted to make sure he wasn't late for his dinner reservations in one of Manhattan's fancy restaurants. He knows he'll get a rematch to regain his title belts but you never know if you can get another reservation in some NYC restaurants.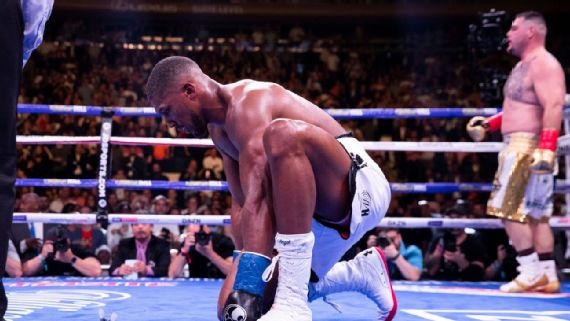 As an event, heavyweight championship fights used to be kind of a big deal, particularly in New York City or one of the Las Vegas hotels. Now, the brutality of boxing that once made it so popular has been overtaken by the even more popular and more brutal sport of MMA fighting, in which fighters not only punch each other in the head but they dropkick opposing heads and ribs, attempting to smash those body parts into unrecognizable formations of bone and sinew.
World boxing champions typically present as the epitome of physical conditioning, if not mental acuity. Andy Ruiz, the new champ of the "glamour" division in boxing, looks like he abstains from the training and road work typical of boxers as they prepare for championship matches. Ruiz, 6'1″ and 265 flabby pounds, appears to prefer his potatoes and tacos to sweat equity.
Muhammad Ali, Jack Dempsey, Joe Louis, Rocky Marciano, Mike Tyson, Lennox Lewis, George Foreman….all were great heavyweight champions. Now, you can add to that hallowed list, the name of fellow pugilist, Andy Ruiz, Jr.
So long to boxing as sport. Now, it's become more like a freak show.