Scherzer Goes Six Shutout Innings Before Nats Bullpen Implodes in 6-1 Loss to Mets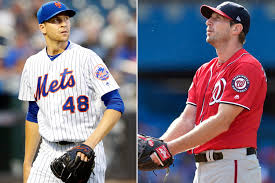 It's not every day you get to witness a matchup of arguably, the two best pitchers in baseball but, yesterday, at Citi Field, the Mets Jacob deGrom, the Cy Young Award winner last season, faced the Nationals' Max Scherzer, the Cy Young winner the season before that.
Scherzer was trying to help Washington avoid a third straight loss to the New York Mets and a fourth straight loss overall, but he was matched up against right-hander Jacob deGrom, who beat him out for the 2018 NL Cy Young award.
Scherzer's manager, Davey Martinez, told reporters before the third game of four against the Mets in Citi Field that he thought his ace would be up for the challenge.
"He's a fierce competitor and he loves to win," Martinez said. "There's no other thing for him but winning, so he's going to out there today and face an opponent that's pretty good too, but knowing Max he's going to gives us his best effort and go out there and try to get that win."
Scherzer's pitch count was high, but he tossed four scoreless on 73 pitches after the Nats jumped out to a 1-0 lead in the top of the first, and he picked up three Ks in a 25-pitch fifth that left him with nine strikeouts and 98 pitches overall after five scoreless.
He came back out for the sixth and retired the Mets in order in an 11-pitch frame that ended his outing.
Joe Ross and Matt Grace combined to get the Nationals through the seventh with their 1-0 lead intact, but two runners reached against Kyle Barraclough in the eighth and three runs scored on a bases-loaded double off Sean Doolittle, who gave up a three-run home run as well in what ended up a 6-1 loss.
"Scherzer was amazing," Martinez told reporters after the loss. "Exceeded the pitch count we thought he was going to have and gave us a chance to win and we just couldn't close the deal."
It was another loss for the Nationals, who've now dropped four straight overall, three in Citi Field, and 14 of 21 in May.
"No one likes to lose," Scherzer said after another solid outing in which a potential win was lost in the bullpen.
"Everyone hates losing. Everyone in here hates losing, so you don't have time to feel sorry for yourself, you play every single day, you have to come out tomorrow and just compete and there's nothing else you can do."
Scherzer was asked what the Nationals have to do to keep things from spiraling further out of control after they fell to eleven games under .500 with the loss to the Mets.
"When you face adversity, this is when you reveal yourself," Scherzer said.
"Whether you have the mental fortitude to come back and know that you can block out all the negativity that's probably going to surround us right now. You've got to come forward to the game with that positive attitude of knowing what you can control, knowing that you have the right mindset that you're going to go out there and compete and compete at 100%. You have to think of all the little things you can do, and for me that's really what I've been focused on in kind of the past handful of turns in the rotation, of all the little things that I can do to make sure that I'm executing pitches and make sure that I'm throwing the ball the way I want to. It just takes an individual approach when you have adversity."