Koepka is showing why he is now the most imperious player in major golf with an explosive marriage of power, finesse and ice-cool emotions
by Scott Mandel
Evolution is inevitable. Who uttered that particular piece of brilliance?
I did.
But, really, evolution, as the primary driver of societal and athletic advancement, is inevitable and shows up in every facet of our lives, with the possible exception of the "natural selection" process for the current resident in the American White House.
Charles Darwin would have gone to town on that one, but if he were alive today, he would look at Brooks Koepka and note just how correct his theories of natural selection, in the 19th century, truly were.
Koepka, the product of Florida State University who is built like a linebacker, represents the new wave of golfer on the international scene. Koepka is 6'0″, 215 pounds of pure muscle. He hits the golf ball off the tee 340 yards away, or about 20-50 yards further than the average professional golfer. Koepka is also a self-described "gym rat," working out with the weights and machines several times per week.
Keopka has become the epitome of the evolution of the sport that once was dominated by a bunch of 165 pound genteel men with plaid pants and cute golf caps. He has brought weight-training into the sport while combining his enormous strength with meticulous technique in his golf swing and all the modern advances of golf technology.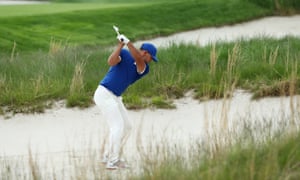 Koepka, who tied for second at The Masters last month, credits his ability to stay on an even keel as one of his best attributes.
This combination has created a veritable monster of the Midway on the most difficult golf courses in the world. This week, Keopka is blowing away the field at the U.S. Open, one of the four major tournaments of the year. Playing on one of the most difficult courses in the country, the Bethpage, N.Y. Black Course, Koepka shot a 63 (yes, a 63!) and a 65 on his first two days.
"It's massive," he said. "I don't think people realize how difficult it is and how you have to let things roll off your back, laugh about it and move on. This game tests your patience, for sure."
Playing alongside Keopka during the first two rounds of this event was one Tiger Woods, once the heir apparent to Jack Nicklaus as the greatest golfer the world had ever seen but now, at age 43, and several back and knee surgeries into his great career, is merely one of the best golfers in the world. He is probably still a top ten performer and on some weeks, such as last month's Masters, Woods seems capable of summoning his old talent and beating the field of youngsters on this tour, as he did in gaining his fifth green jacket. But, Woods was unable to sustain it at this major, missing the cut.
It was strange seeing Woods and Keopka, the past and the future of the sport, standing side by side during this tournament's opening two rounds. One looked fresh and muscular and eager while the other looked like he wanted to be elsewhere.
Perhaps, when Woods watched Koepka tee off from 18 holes each of the days they were paired together, with Koepka drilling the golf ball further than Tiger ever did, it contributed to the veteran's sense of ill-feeling It was also strange seeing Keopka out-drive Woods off the tee by 40 yards.
But, that's evolution for you. It's also age vs. youth.
For further comparisons sake, Nicklaus, considered the greatest golfer in the sports' history and the winner of 18 Majors, three more than Woods, was also one of the tours longest hitters off the tee, at 5'10", 190 pounds.
Jack, in his prime, was measured by IBM in 1968, along with other top golfers from that era for their distance off the tee. IBM recorded driving distance data at 11 PGA Tour events. The top 10 players, 51 years ago, averaged 270.2 yards, the average was 264.0 yards and Nicklaus led the Tour at 276.0 yards. Adding 35 yards for increased speed, hotter driver and better ball, IBM estimates Nicklaus would've averaged 311.0 last season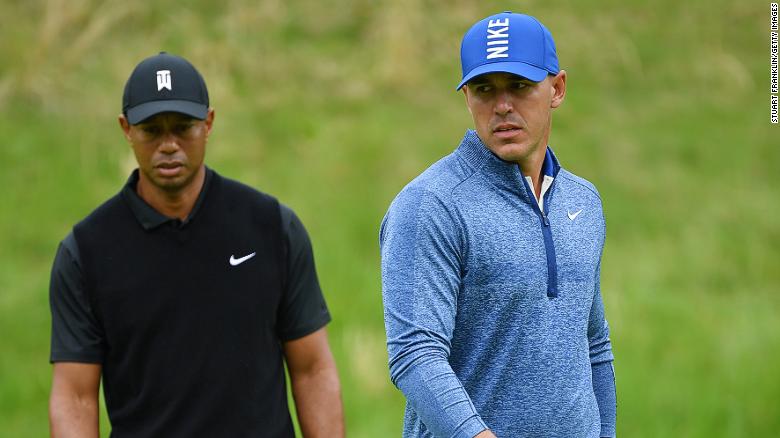 Evolution. It's not just the human body that has gotten bigger and stronger, it's the equipment and training techniques that have made today's athlete capable of so much more than those of prior generations.
But, the combination of all of those things with Brooks Koepka's talent and strong will is how a new champion of golf is being crowned, right here in Bethpage, New York.